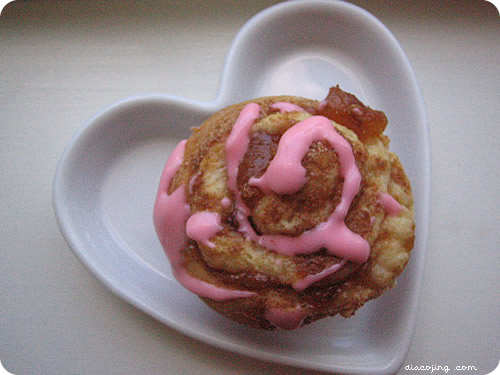 I made these cinnamon rolls for Mother's Day (May 10th). This recipe was inspired by 1) the fact that cinnamon rolls are one my my mom's favourite things and 2) the fact that cinnamon roll recipes have been popping up all of the place recently! This particular recipe is inspired by Smitten Kitchen's.
Dough
1cup whole milk
1/4 cup vegetable oil
1/4 cup sugar
1/2 package active dry yeast
2 1/4 cups all-purpose flour (+ extra for flouring surface)
1/4 heaping tsp baking powder
1/4 scant tsp baking soda
1/4 teaspoon salt
Filling
1/6 cup sugar
1/6 cup light or dark brown sugar
1 tsp cinnamon
most of a small jar of jelly or jam of your choice (I used peach preserves)
3 tbsp salted butter melted
1/2 cup chopped walnuts (or any other nut)
1/2 cup raisins
Glaze
1-1/2 tbsp butter, softened
1.5 ounces cream cheese, at room temperature
1/3 cup powdered sugar
1/4 teaspoon vanilla extract
1/8 cup milk
Mix the whole milk, vegetable oil and 1/4 cup sugar in a large pot, and heat it until just before it boils. Turn off the heat, remove the pot from the burner, and let it cool for 30 to 45 minutes. When the mixture is lukewarm, sprinkle in the yeast and let it sit for a minute or two before adding the two cups of flour. Stir the mixture together, cover the pot and let it sit for at least thirty minutes. After this time, the dough should be a giant, puffy but still pretty wet. Add another 1/4 cup of flour, the baking powder, baking soda and salt and stir the mixture together. Either use it right away, or cover the dough and put it in the fridge until you're ready to use it — overnight or up to a day or two. If it starts to overflow in the pot, press it down.
Generously flour a large counter — the dough is very wet and sticky. Dump the dough onto it, flour your rolling pin well, and roll the dough into a large rectangle about 12 inches wide and as thin as you get it in the other direction. Generously spray a 12-cup muffin tin with a cooking spray, or butter them well.Stir together the 1/6 cup sugar, brown sugar and cinnamon and set it aside. Spread your jam evenly over the dough, leaving a 1/2-inch margin at the wider ends. Drizzle three tablespoons melted butter over the jam layer. Sprinkle the jam and butter layer with most of the cinnamon-sugar mixture, the nuts, and raisins.
Starting with the wider side of the rectangle (the one that should be a foot), begin to tightly roll the dough, incorporating the filling. Once it is fully rolled up, cut it into two-inch segments with a sharp knife (a serrated knife works great here). Place one in each muffin cup. Sprinkle the tops of the rolls with the remaining cinnamon-sugar mixture and set the tin aside to puff some more, about 20 to 30 minutes.
Preheat your oven to 350°F.Bake your rolls for 15 to 20 minutes, until they're golden at the edges and the filling looks bubbly. Let the rolls mostly cool on a rack.
For the glaze: Beat the milk, butter, cream cheese, powdered sugar and vanilla together in a bowl with an electric mixture until fluffy. I added two drops of food coloring.
Note: You can easily add chocolate chips, other dried fruit, and other nuts. Feel free to omit the jam layer or any other parts as well. This seems like a difficult recipe, but its really quite easy!