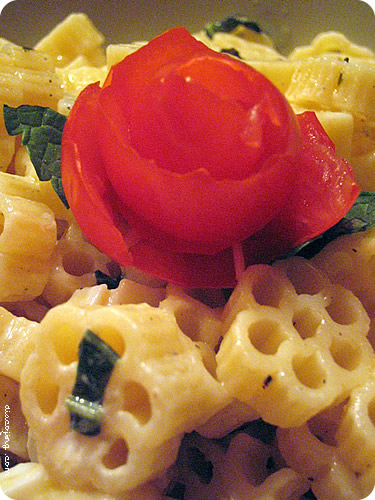 This pasta salad is healthy, easy, cheap, and delicious! It also gave me an opportunity to try to make tomato roses! The portions in this recipe make enough pasta for a week, so feel free to halve the pasta. I wouldn't halve the tomatos, though if you don't make tomato roses, there will be enough tomato to go around.
1 pound pasta (farfalle,fiori, etc)
4 plum or stem tomatoes, cut into 1 inch dice
20 basil leaves, cut into chiffonade
1 lemon's juice or 3 tbsp lemon juice
1/4 cup extra-virgin olive oil
salt and ground pepper to taste
Fresh basil leaves, for garnish
Bring a pot of water to a boil, salt, and cook 8 to 10 minutes, until al dente. Drain the pasta and rinse under cold water to cool down. Put the pasta in a large serving bowl and add the tomatoes, basil, lemon juice, olive oil and salt and pepper to taste. Toss well and garnish with fresh basil leaves. I've heard pasta salad tastes better the day before, so feel free to make the day before. We also chose to add some goat cheese and hard-boiled egg whites.
More pictures in the full entry.