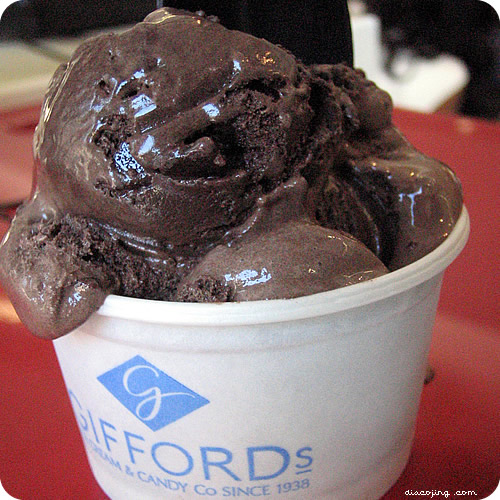 Yes, that is one delicious cup-ful of Gifford's 72% Chocolate Chip ice cream. Even though it was slightly melted, It was still one-hundred-percent delicious-ness.
I went to the Taste of Eleven event yesterday, housed by the Verizon Center to benefit the Capital Food Bank. I didn't go to help the Capital Food Bank, though I'm glad my proceeds went somewhere–I went to get 6 tastings of over 30 restaurants for only $11. That's right: ELEVEN DOLLARS. That's a whole whopping $1.83 per taste. You better believe I was willing to pay that to get free Dasani, free Nestea Pommegranate Passion Fruit Red Tea, Source pork potstickers, Cafe Atlantico ceviche, Zengo ceviche, a Matchbox slider, Zaytiniya Octopus, and ice cream. In fact, I would have paid upwards of four bucks for that ice cream, thats how good it was.
The event only lasted two hours (12-2), and I made sure to get there at around 12:15 so I would have enough time to scope out the competition and dol out my tickets to the six most deserving vendors. The only downside was that, unlike Taste of Georgetown, the dishes didn't seem to have been planned ahead of time, so weren't displayed. I felt bad gawking at the booth or asking people what was there, but I didn't want to wait in line at a great sounding place like Oyamel and get guacamole! Nah, I'm better than that. The only other down-side to this was that it was only two hours! Other than that, it was cheap, great location, and great food. This makes it #2 in the past year's 3 tasting events so far.
Taste of Georgetown 2008
Second Annual Taste of Eleven
Taste of Arlington 2009
Pictures of all the dishes and descriptions under the cut.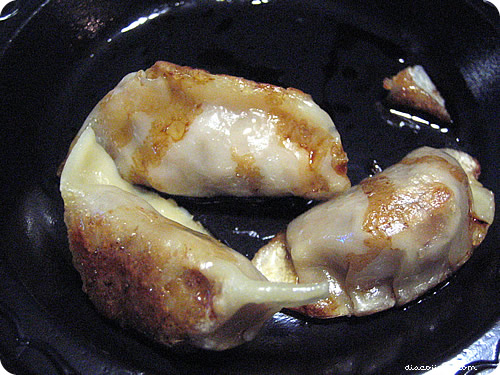 The Source – As one lady put it "I love me some Wolfgang Puck!". I thought these would be the Pork Belly Dumplings, but they weren't. Nice, moist, and hot, with a slightly sweet sauce. The dumpling wrapper (jaozi pi) was a little too moist though, like they cooked them too long.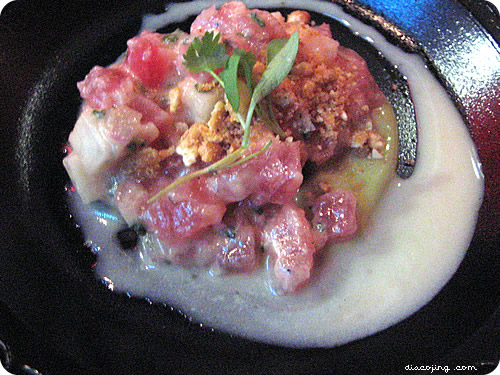 Cafe Atlantico – This dish was assembled before my eyes as such: dot of avacado puree, tuna ceviche, coconut milk, crushed nut, sprig. This had great flavor, and I liked the play off of sweet, savory, and crunchy. I don't care for tuna, but the tuna flavor here was nice and mild. Maybe that's a bad thing? But, it would only be an intro to the next ceviche!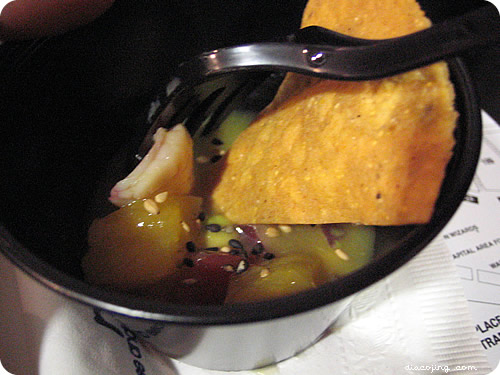 Zengo – I was sad I couldn't get a better picture than this, but this shrimp ceviche was one of the best things I've ever had. It was so flavorful, but not in an overpowering/clashing sort of way. I don't usually care for shrimp either (sure does seem like I'm a picky eater), but this shrimp was fresh and delicious. It soaked up all the ceviche, as it should. Tasted of pineapple, mango, and lime. There was either avocado or kiwi in there (something green). Topped with sesame seeds and a single chip. I really wanted to drink the remaining juice from the cup, but I refrained.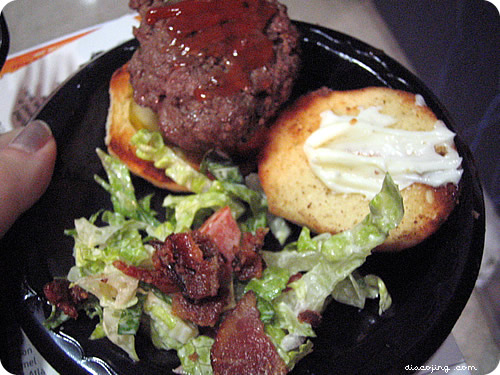 Matchbox – Oh Matchbox, how I love you so. Unfortunately, this hamburger wasn't that good. The burger itself was okay (thankfully I know what they really taste like), but the bread was way too hard. I tossed the top bun and ate it open face. The salad was delicious though. Perfectly crisped bacon packed with tons of flavor served over lettuce tossed with a yummy sauce and mixed with tomatoes and a few pasta pieces. Kinda weird, but I liked it!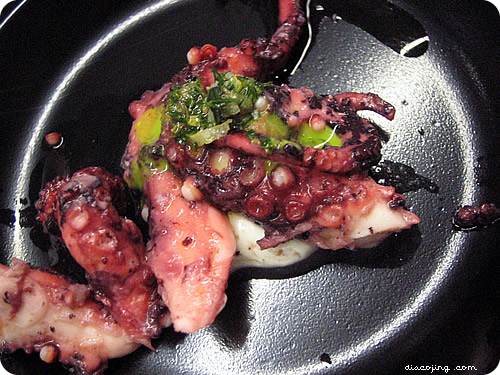 Zaytinya – Is this Taste of Eleven or "Taste of Andres"? This octopus was pretty good (better than the Liberty Tavern octopus at Taste of Arlington), but still not that good. The sauce was fine, but at this point I was eating while waiting in line for Gifford's and was getting pretty full. I ate two out of four hefty octo-tentacles.
My rating on dishes:
Gifford's Ice Cream
Zengo Ceviche
Matchbox Salad (…and slider)
Cafe Atlantico Ceviche
Source Potstickers
Zaytinya Octopus
Of course dessert wins first. I knocked the Source down because the dish wasn't very well presented or original. Keep in mind that these six dishes are my top-seeders out of thirty-plus possible options (though I'm not counting McDees, Dunkin Donuts, or Chipotle).
From Verizon's Site

Aramark, Asia Nine Bar and Lounge, Brasserie Beck, Burma, Cafe Atlantico, Chipotle, Clyde's, Coca-Cola, D'Acqua, District Chophouse, Dunkin' Donuts, ESPN Zone, Fado, Gifford's Ice Cream, Hard Rock Café, Indebleu, Jaleo, La Tasca, Legal Sea Foods Restaurant, Levy Restaurants, Mamma Lucia, Matchbox Vintage Pizza Bistro, McCormick & Schmick's Seafood Restaurant, McDonald's, Mehak, Morton's Steakhouse, Nandos, Noah's Pretzels, Oyamel, Penn Quarter Sports Tavern, Rosa Mexicano, the Greene Turtle Sports Bar and Grille, The Source, Tony Cheng's Seafood Restaurant and Mongolian BBQ, Zaytinya, Zengo and Zola.