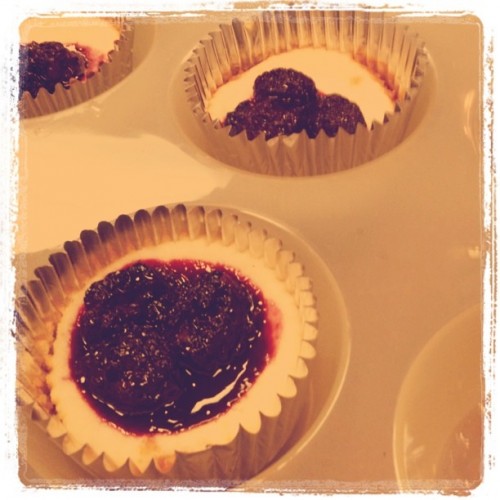 Several months ago I made some delicious miniature blueberry cheesecakes for a potluck at work. I couldn't remember the recipe for them, just that the filling was cream cheese, an egg, and sour cream. I was able to combine several different recipes, using mostly this one from The Pioneer Woman. The great thing about cooking miniature cheesecakes is that you don't have to have a springform pan and you don't have to wait for it to cook for over an hour. While it was a little bit more of a hassle to transport to work, I also didn't have to bring a knife and plates to share these sweet bites.
The original recipe calls for pecans to be added to the crust. I just added some more cookies and replaced some vanilla extract with almond extract. I wanted to keep the fruit topping bright and tart, so I added lemon juice into the berries. The side profiles of these bite-size cakes are great; divided into three even layers of crumbly crust, fluffy cake, and tart topping. Unfortunately, I didn't think of taking a picture while these were being devoured by my co-workers, but I was able to snap the above picture using my phone before the feast began.
8 oz  Vanilla Wafers
½ stick (4 tablespoons) of unsalted butter, melted
3/4 teaspoon vanilla extract
3/4 teaspoon almond extract
12 oz cream cheese (1-½ packages of standard Philadelphia)
3/4 cup sugar
2 eggs
1/4 cup sour cream
About 12 oz blackberries
lemon juice
1/4 cup sugar (for topping)
1 tablespoon Water
24 metal cupcake liners & muffin tray(s)
small cookie scoop
Preheat oven to 350 degrees. Crush cookies in the bowl of a food processor, then add melted butter and extracts. Add about a tablespoon of cookie crust to each cupcake liner and press down with fingers. In the bowl of a stand mixer, beat cream cheese and sugar until completely smooth. Add eggs one at a time, beating after each addition. Add sour cream and mix again. Make sure there are no chunks of cheese or cream in the mixture, then scoop mixture into liners using a small cookie scoop. Bake for 20 minutes in muffin trays. While the cakes are baking, add blackberries, 1/4 cup sugar, water, and a few drops of lemon juice to a pan. Bring to a boil over medium-high heat and cook for 4 to 5 minutes or until the berries reach the consistency you desire. Remove from heat and allow to cool before topping cheesecakes. Once cakes and topping are cool, top with about a tablespoon of berries and set in the fridge for at least 2 hours (overnight is best).