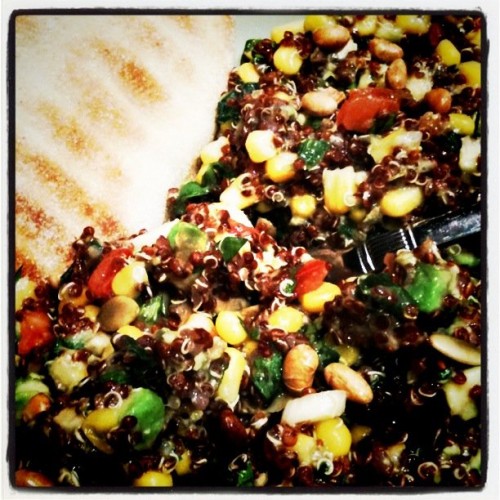 Last April I attended a 29 1/2 minute vegetarian cooking class with my friend Stephanie at Whole Foods. A dish that was made for us and that we got to taste was a dish using pesto and quinoa called "Quinoa Awakening". This was my first time tasting quinoa and I've been interested in it ever since.
Recently, we've been bringing quinoa into rotation for meals more frequently. It's half way in-between rice and cous cous, has more protein, and cooks in the same amount of time (or quicker!). So far we've tried plain quinoa and red quinoa. Plain, or white, quinoa is easier to find, but if you can find red quinoa, try it! It has a more nuttier taste and more protein than regular quinoa. Even though I live in a major city, most grocery stores still don't carry quinoa, and if they do it's in gourmet "exotic grain" packs. I was able to snag a big pack of quinoa at Costco and I've seen it in affordable packages in Wegman's and in some bulk sections of Whole Foods.
Our favorite way to eat quinoa is curried or in a fresh raw salad. When cooking the curried quinoa, it thickens on the stove like risotto. For the salad, which is a mixture of raw vegetables and cooked red quinoa, I actually cook the quinoa in the rice cooker and it turns out perfectly!
Have you ever tried quinoa? If so, what's your favorite way to eat it?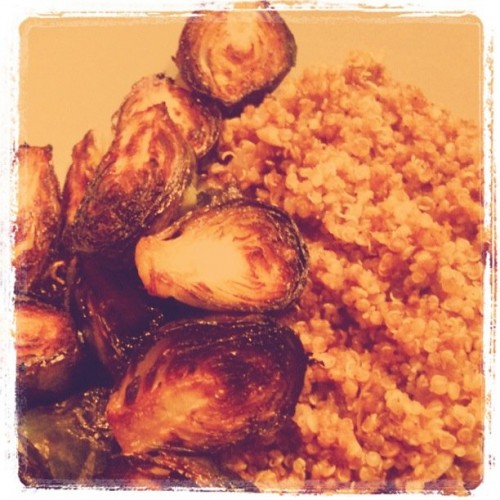 Quinoa Awakening
From Whole Foods Arlington, VA Facebook Page
Serves 4-6
1 cup quinoa (grain)
2 ½ cup vegetable stock (flavor liquid)
½ teaspoon oil
Pinch of salt
2 cup arugula (leafy green with herbal qualities)
1 clove of garlic (onion bulb flavor)
1 tablespoon oil
1 teaspoon fresh lemon juice (acid for sharpness)
Salt and pepper to taste
In a sauce pot bring vegetable stock with a tsp. of oil and a pinch of salt to a boil, add the quinoa and reduce to a simmer put a lid on top and simmer for 15 minutes. While the quinoa is simmering; in a food processor add the arugula, garlic, oil, lemon juice and puree until is it the consistency of pesto sauce. You may have to scrape the sides down several times to get everything chopped evenly. After the quinoa is finished cooking stir in the arugula pesto and taste adjust seasoning if needed.
Red Quinoa-Avocado Salad
Adapted from Wegman's Menu Magazine Winter 2011
7 oz Red Quinoa, cooked and chilled
12 oz corn
1 cup finely chopped fresh cilantro
1 cup green onions or green chiles, thinly sliced on the bias
2 plum tomatoes, 1/4-inch dice (about 1 cup)
1 avocado, peeled, pitted, cubed small
1/4 cup White Balsamic Vinaigrette, 1/4 cup lemon juice, combined
1/2 teaspoon salt
1/2 teaspoon pepper
If you have a rice cooker, add 7 ounces quinoa and 14 ounces water. Cook on quick cooking setting (or if you have a on-off switch rice cooker, one cycle will be good). After cycle ends, leave in cooker to rest for five minutes. If you don't have a rice cooker, bring water to boil in a pot on the stove. After it reaches a boil, add quinoa, put on lid and simmer for fifteen minutes. You can either chill the quinoa or serve it as a warm salad. Mix together the cooked quinoa, corn, cilantro, green onions/chiles, and tomatoes to mixing bowl. Fold in avocados and dressing; mix until well-combined. Season with salt and pepper; serve.
Curried Quinoa
From Allrecipes.com
2 tablespoons olive oil, or as needed
1 small onion, diced
2 cloves garlic, minced
1 cup quinoa
2 cups chicken broth
1 tablespoon curry powder, or to taste
1 tablespoon ancho chile powder
salt and pepper to taste
Heat oil in a large skillet over medium heat. Add onion and garlic and cook and stir for 2 minutes; add quinoa and cook and stir until lightly toasted, about 5 minutes. Pour broth into the pan and bring to a boil. Reduce heat and add curry and chile powders; cover and simmer until tender, about 25 minutes. Season to taste with salt and pepper.