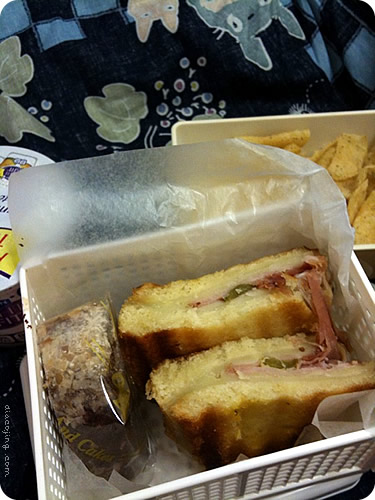 This was actually a Croque Madame that I enjoyed at Kafe Leopold on Labor Day, but I couldn't finish it all so ate the eggs off if it, saved it and ate it for lunch today. Strangely, all the things I hate (mustard, pickles) come together perfectly in this sandwich and taste absolutely delicious.
I also found a Totoro furoshiki when I was cleaning up the apartment this weekend. I thought this was a handkerchief, but I realized it was a totally awesome furoshiki and I made use of it as soon as possible~
Shilla Choco-Coconut roll cake slice to the left of the sandwich and some Cape Cod Cracked Sea Salt (40% reduced fat) Potato Chips. I don't like potato chips and never eat them, but these are delicious.  Watermelon yogurt in the background that I didn't eat. The chocolate coconut roll cake really reminded me of German Chocolate cake that I used to eat when I was little. It was missing a little bit of caramel, but the general taste was still there.
I keep going places with my parents and every time I'm out with them, we go to the local Shilla and load up on pastries (Literally, fill a nice, woven basket with pastries).  It's ridiculous. I need to eat my way through a napoleon, the rest of this roll cake, a custard bun, cream cheese croissant, and a steamed castella. Not to mention I broke down at the Asian Market and bought a whole roll of Matcha Castella. Hopefully the fridge will keep them nice and fresh for me.