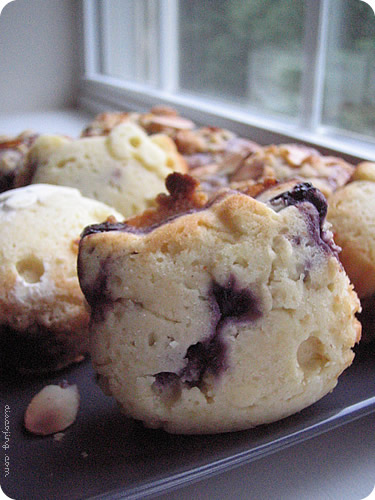 I had some extra buttermilk and tons of blueberries so I decided to make some blueberry muffins. I think these turned out great, though Dan said that they would have tasted better without the almonds on top. Also, this recipe made a little more than 12 muffins, so I put the extra batter into my Hello Kitty silicone muffin mold.
2 c. fresh blueberries, picked over
1-1/8 c. plus 1 teaspoon sugar
2½ c. unbleached all-purpose flour
2½ tsp baking powder
1 tsp salt
2 large eggs
4 tbsp (½ stick) unsalted butter, melted and cooled slightly
¼ c. vegetable oil
1 c. buttermilk
1½ teaspoons vanilla extract
Adjust oven rack to upper-middle position and heat oven to 425 degrees. Spray standard muffin tin with nonstick cooking spray or line with paper liners. Bring 1 cup blueberries and 1 teaspoon sugar to simmer in small saucepan over medium heat. Cook, mashing berries with spoon several times and stirring frequently, until berries have broken down and mixture is thickened and reduced to ¼ cup, about 6 minutes. Transfer to small bowl and cool to room temperature, 10 to 15 minutes.
Whisk flour, baking powder, and salt together in large bowl. Whisk remaining 1-1/8 cups sugar and eggs together in medium bowl until thick and homogeneous, about 45 seconds. Slowly whisk in butter and oil until combined. Whisk in buttermilk and vanilla until combined. Using rubber spatula, fold egg mixture and remaining cup blueberries into flour mixture until just moistened. (Batter will be very lumpy with few spots of dry flour; do not overmix.)
Divide batter equally among prepared muffin cups (batter should completely fill cups and mound slightly). Spoon teaspoon of cooked berry mixture into center of each mound of batter. Using chopstick or skewer, gently swirl berry filling into batter using figure-eight motion. Sprinkle topping evenly over muffins (see struesel topping recipe below). Bake until muffin tops are golden and just firm, 17 to 19 minutes, rotating muffin tin from front to back halfway through baking time. Cool muffins in muffin tin for 5 minutes, then transfer to wire rack and cool 5 minutes before serving.
Steusel Topping
Prepare streusel by combining 3 tablespoons granulated sugar, 3 tablespoons dark brown sugar, pinch table salt, and ½ cup plus 3 tablespoons (3½ ounces) unbleached all-purpose flour in small bowl. Drizzle with 5 tablespoons warm, melted unsalted butter and toss with fork until evenly moistened and mixture forms large chunks with some pea-sized pieces throughout. Proceed with recipe as directed, sprinkling streusel topping over muffins before baking.
(N.B. I only used half of the topping, and sprinkled with almond slices)