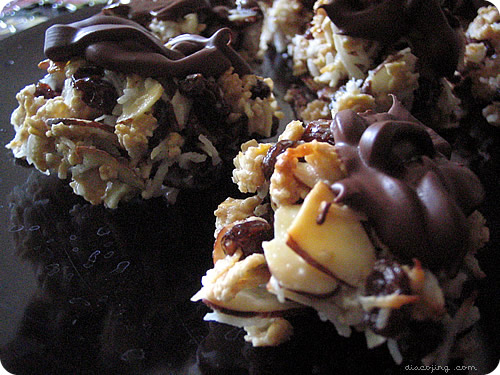 Danny watches this podcast where this recipe was featured. Of course, he took this "cookie" recipe and turned it into something his own!
3/4 cup raisins
3/4 cup almond slices
3/4 cup shredded coconut
2 cups crushed chex cereal
3/4 cup sweetened condensed milk
4 ounces of semi-sweet or milk chocolate
Start by preheating your oven to 325 degrees. Measure ¾ cup of the sweetened condensed milk into a measuring cup with a pour spout. Sweetened condensed milk is really thick and sticky. If you spray the measuring cup with cooking spray first, the condensed milk will slip right out of the measuring cup. In a large bowl combine raisins, almonds, cereal, coconut, and the condensed milk. Mix well.
Line a baking sheet with sides with non-stick tin foil. If you only have regular tin foil then you have to "grease" the foil, preferably with shortening. You could spray it with cooking spray or smear butter all over the tin foil. Place 1/8 of a cup the mixture onto the foil lined oven trays. They don't really spread or change shape when they are cooking so they don't have to be really far apart. Bake 14-15 minutes or until light golden. Cool slightly before removing from tray, cool on wire rack.
While the cookies are cooling, put about two cups of water in the kettle and bring it to a boil. Put the chocolate chips into a small baggie. Pour the water into a medium bowl. Set the baggie of chocolate chips into the bowl. In about 5 minutes the chocolate will be melted. Snip the corner of the baggie. Squeeze the chocolate into a funnel shape and squirt the base of each cookie with melted chocolate. If desired, spread the chocolate into a thin layer on the "bottom" of the cookie. We just left it as is.