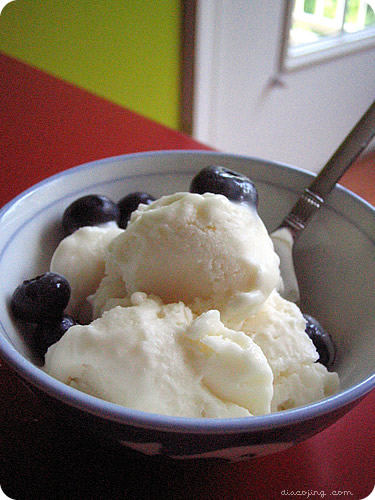 I had some leftover whipping cream and buttermilk and made some crème fraîche! I combined the recipe for sweetened crème fraîche and the one for crème fraîche sorbet to make this. Truthfully, I should have left out the sugar before I made the crème fraîche because the sorbet recipe calls for sugar as well, so it was a little too sweet (but still yummy!). This smells a little like frozen frosting or cookie dough, and has a rich, clean taste that really brings out the natural flavors of the berries.
I really like this recipe because you can basically make ice cream, without an ice cream machine!
Whisk everything together, then decant into a metal loaf pan (I used a glass dish that I lined with aluminum foil).  Freeze until firm (several hours), and serve with plenty of berries.
And for those of you that don't know how to make crème fraîche yet:
1 c. whipping cream, room temp
1 tbsp buttermilk or 1/2 cup sour cream, room temperature
In a jar with a lid, place whipping cream and buttermilk (or sour cream); cover securely and shake 15 seconds. Set aside at room temperature for 24 hours or until very thick. Stir once or twice during that time. NOTE: Cream will thicken faster if the room is warm. Stir thickened crème fraîche well. Refrigerate at least 6 hours before serving. Cover tightly and store in refrigerator for up to 2 weeks. Since I knew I would be using this recipe for sorbet, I added 1 to 1-1/2 teaspoons vanilla extract into the creme right before refrigerating to give it a vanilla flavor.