Originally made July 22, 2008
This was another 残り物 (nokorimono) day. My father had made grilled-marinated-salmon a few days prior and eating fish plain after a few days is kinda… un-appetizing, so I made some sake raisu — salmon fried rice. The flavor of the salmon itself was pretty strong, so I didn't need to add anything flavorful to the mix.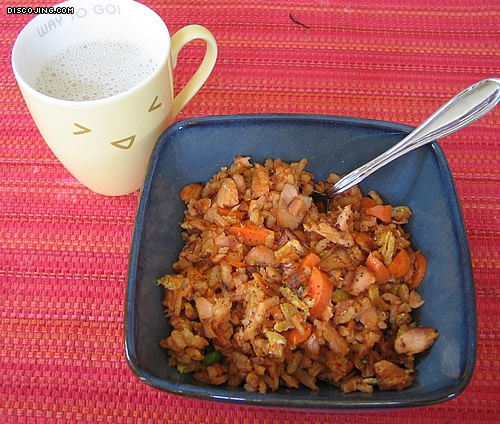 Sake Raisu
– leftover rice (not as sticky as fresh and works better in the pan)
– vegetables of choice (negi, onion, cilantro, peppers, etc) [carrots were used here along with the green onions that dressed the salmon]
– protein of choice (I used a big hunk of salmon)
– 1 egg
– little bit of soy sauce
Heat up a pan (I used a wok) and add vegetables until softened. Add salmon and break into small pieces. Add rice and toss until all ingredients are equally distributed. Add soy sauce to taste (optional).
Make an egg separately or make a well in the bottom of the wok and pour the egg (whisked) into the center. Allow to cook and mix into the rice. Sprinkle with pepper if desired.
Eat hot! (served with Green Tea soymilk here)