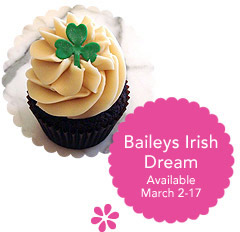 I heard about these through one of the blogs I sub­scribe to (link in Show n Tell Issue 4, com­ing out soon!) that said WUSA9 was hav­ing the Hello Cup­cake gals in for a demon­stra­tion of these Guiness/Irish Cream good­ies! I DV-R'ed it and just watched it (of course, the stuff I want to watch is always smushed at the end of the show into a few sec­onds). Yes­ter­day I stopped by Hello Cup­cake because I was in Dupont Cir­cle and I got to try one! (Last week when I was there, they didn't seem to have any). The cake was actu­ally quite good! I was sur­prised at how moist they were since my pre­vi­ous batch had been a lit­tle dry/stale. As always, the icing is waaay too much, and I was dis­ap­pointed that it didn't taste more like Bailey's. I had to really look for the "Irish" fla­vors, and I only noticed them because I was look­ing for them. If it were a blind tast­ing, I would have said a moist choco­late cake with too-sweet and too-much icing. Glad I tried them, but I won't try them again. I'm much more excited about their Cherry Blos­som cupcakes!
Here's the Hello Cup­cake recipe below.
I might try to make the recipe myself but change it (maybe have cream cheese frost­ing mixed with Bailey's).
Bai­leys Irish Dream Cup­cakes
Guin­ness Choco­late Cup­cakes
Makes approx­i­mately 2 dozen
1 cup stout beer – Guinness
1 cup (2 sticks) unsalted butter
3/4 cup cocoa powder
2 cups unbleached, all-purpose flour
2 cups sugar
1 1/2 tea­spoons bak­ing soda
3/4 tea­spoons salt
2 large eggs
2/3 cup buttermilk
Pre­pare muf­fin tins with lin­ers.
Sim­mer together beer and but­ter in heavy large saucepan over medium heat. Add cocoa pow­der and whisk until mix­ture is smooth. Cool slightly.
Whisk flour, sugar, bak­ing soda, and salt in large bowl to blend.
In bowl of mixer fit­ted with beater, beat eggs and but­ter­milk to blend.
Add cooled stout-chocolate mix­ture to egg mix­ture and beat just to com­bine.
Add flour mix­ture and beat briefly on slow speed. Using rub­ber spat­ula, fold bat­ter until com­pletely com­bined. Bat­ter will be very dark brown and thin.
Divide bat­ter equally among pre­pared pans. Bake until tester inserted into cen­ter of cup­cakes comes out clean, about 18 minutes.
Bai­leys Irish Cream Frosting
1 lb (4 cups) confectioner's sugar
1 cup (2 sticks) unsalted but­ter, room tem­per­a­ture (soft but still cool)
3 ounces (6 TBL) Bai­leys Irish Cream*
Beat but­ter on medium-high until smooth, and fluffy. On low­est mixer speed, add confectioner's sugar one cup at a time, incor­po­rat­ing fully before adding more. Once all sugar is added, beat about one minute. Incor­po­rate Bai­leys Irish Cream one table­spoon at a time. Beat until light and fluffy. If too stiff or dry, add more Bai­leys as nec­es­sary.
*for a non-alcoholic ver­sion, use 4 oz (8 TBL) Irish cream fla­vored syrup, such as Monin brand
Frost cup­cakes when com­pletely cool and add St. Patrick's-themed dec­o­ra­tions, such as sham­rocks or green sprinkles!
Video of the demon­stra­tion after the cut