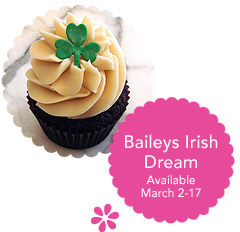 I heard about these through one of the blogs I subscribe to (link in Show n Tell Issue 4, coming out soon!) that said WUSA9 was having the Hello Cupcake gals in for a demonstration of these Guiness/Irish Cream goodies! I DV-R'ed it and just watched it (of course, the stuff I want to watch is always smushed at the end of the show into a few seconds). Yesterday I stopped by Hello Cupcake because I was in Dupont Circle and I got to try one! (Last week when I was there, they didn't seem to have any). The cake was actually quite good! I was surprised at how moist they were since my previous batch had been a little dry/stale. As always, the icing is waaay too much, and I was disappointed that it didn't taste more like Bailey's. I had to really look for the "Irish" flavors, and I only noticed them because I was looking for them. If it were a blind tasting, I would have said a moist chocolate cake with too-sweet and too-much icing. Glad I tried them, but I won't try them again. I'm much more excited about their Cherry Blossom cupcakes!
Here's the Hello Cupcake recipe below.
I might try to make the recipe myself but change it (maybe have cream cheese frosting mixed with Bailey's).
Baileys Irish Dream Cupcakes
Guinness Chocolate Cupcakes
Makes approximately 2 dozen
1 cup stout beer – Guinness
1 cup (2 sticks) unsalted butter
3/4 cup cocoa powder
2 cups unbleached, all-purpose flour
2 cups sugar
1 1/2 teaspoons baking soda
3/4 teaspoons salt
2 large eggs
2/3 cup buttermilk
Prepare muffin tins with liners.
Simmer together beer and butter in heavy large saucepan over medium heat. Add cocoa powder and whisk until mixture is smooth. Cool slightly.
Whisk flour, sugar, baking soda, and salt in large bowl to blend.
In bowl of mixer fitted with beater, beat eggs and buttermilk to blend.
Add cooled stout-chocolate mixture to egg mixture and beat just to combine.
Add flour mixture and beat briefly on slow speed. Using rubber spatula, fold batter until completely combined. Batter will be very dark brown and thin.
Divide batter equally among prepared pans. Bake until tester inserted into center of cupcakes comes out clean, about 18 minutes.
Baileys Irish Cream Frosting
1 lb (4 cups) confectioner's sugar
1 cup (2 sticks) unsalted butter, room temperature (soft but still cool)
3 ounces (6 TBL) Baileys Irish Cream*
Beat butter on medium-high until smooth, and fluffy. On lowest mixer speed, add confectioner's sugar one cup at a time, incorporating fully before adding more. Once all sugar is added, beat about one minute. Incorporate Baileys Irish Cream one tablespoon at a time. Beat until light and fluffy. If too stiff or dry, add more Baileys as necessary.
*for a non-alcoholic version, use 4 oz (8 TBL) Irish cream flavored syrup, such as Monin brand
Frost cupcakes when completely cool and add St. Patrick's-themed decorations, such as shamrocks or green sprinkles!
Video of the demonstration after the cut