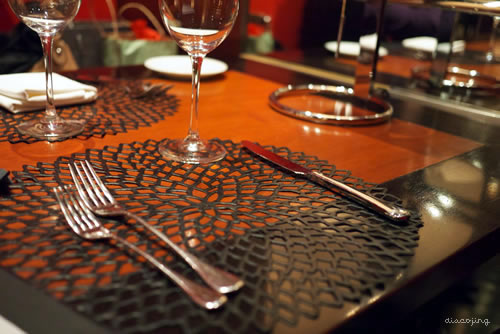 At the beginning of January, my friend Olga of Mango & Tomato invited me to a PR dinner at Zola in Washington, DC as a late Christmas/New Year's present. Lindley of Heather Freeman PR had arranged for us to receive the five course offering ($89).
We had the option of the chef's tasting menu or choosing from different sections of the menu to compose our own tasting. It was hard to pick exactly what I wanted since everything seemed delicious. We were pulled away from the menu a few times by interesting attention to detail such as: black napkins so that the white napkins wouldn't leave lint on our laps; interesting place settings of marble and decorative cut-outs; an inventive use of wall-space by way of a square window cut out that let us see directly into the kitchen.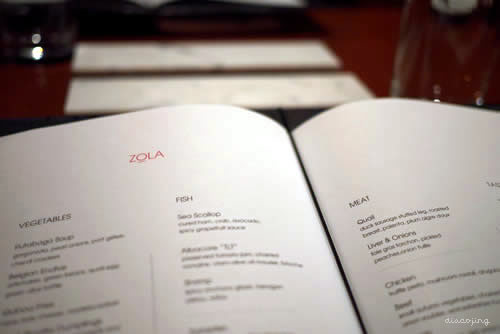 Thankfully we were given the option of choosing a drink while we mulled over the menu. Olga had the bartender create an off-the-menu recommendation called "Passion" which had mango rum, passion fruit juice, sparkling wine, and a sugar rim. I chose the Poire, but was later informed there were no sage leaves. I asked for what Olga had chosen, but by that time, sage leaves had magically appeared again and I was able to have my Poire as intended, with Mezcal, pear brandy, pear nectar, ginger syrup, and garnished with pear segment & sage. It was deliciously sweet, complex, and tempered with the savoriness of the sage.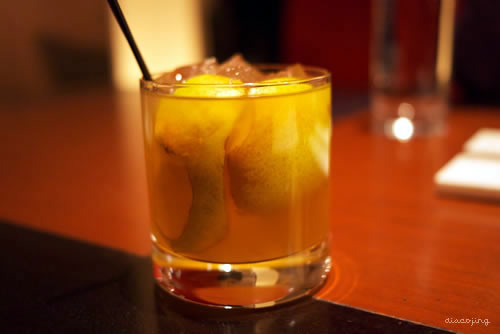 Image on the right by Olga of Mango & Tomato
After receiving our drinks, I had finally made up my mind on what to order. Sort of. The tasting menu seemed perfect except for one dish, which I swapped for one of Olga's dishes. Olga decided on: Goat Ricotta Dumplings; Sablefish; Quail; Lamb; Pears. I chose the tasting menu, which consisted of: Lobster, Caviar and Oyster; Turbot; Valentine Miller Farms Veal; Dr Joes Duck; White and Black Semi Freddo. I swapped the semi freddo out for Eggplant Baklava and when dishes arrived, Olga and I switched our Quail and Lobster.
Before the food started coming out of the kitchen, we received a tiny amuse-bouche of fennel brioche, creme fraiche, cured salmon, Ossetia caviar, and amaranth microgreen. It was the perfect bite to start of a meal. We also received a hot bread basket of spicy lavash w/ hawaiian sea salt, hard rolls, pumpkin bread, and olive bread.
I did not try any of Olga's first dish since I don't care too much for cucumber, lobster, caviar, or oysters. My first dish of quail was delicious, especially when stuffed with one of my other favorite meats–duck. Polenta can go very wrong very easily, but this was smooth and rich, though not to heavy.
The turbot that I had for the second course was seared wonderfully, but it seemed a bit out of proportion. The turbot fillet teetered on top of the greens and was almost the size of an entree, not an appetizer. The accompaniments had a nice bite to them that helped to even out the meatiness of the fish, but they quickly ran out and I was left with just a hunk of meat. Juicy, flaky meat, but a bit ill-balanced. Olga's second course was the goat ricotta dumplings. The plating was meticulously executed, but the dish itself seemed a bit hard to eat. The flavors were very subtle and elegant and the texture of the dumplings was pillowy, almost biscuit-like.
The veal that followed afterwards for the third course was succulent. The pearl onions underneath the slices of veal were peppered with sweatbreads and soaked up the fennel puree and blood orange glaze. Olga's sablefish tasted a tad fishy to me and the scallion and short rib fried rice seemed a little dry, but all in all it was still a well-balanced dish, especially with the brightness of a pomegranate glaze to cut through the heavier parts of the dish.
The next, and final, protein course held duck for me and lamb for Olga. The duck was cooked perfectly, but I was thinking back to that turbot from earlier–wishing I had eaten less of that so I could eat more of the duck now. The hedge hog mushrooms were earthy and firm, especially when covered with a house-made huckleberry jus that Olga declared she wanted to eat by the spoonful by itself. The only low point of the dish was the roasted endive, which seemed acrid and bitter amongst the rich, soft, and sweet flavors of the rest of the dish. Olga's lamb lacked a little flavor and almost tasted and looked the same as the veal dish that had been part of the previous course. The best part of the dish was the lamb pancetta, something not often used in restaurant cooking around here.
During the course of the tasting menu, we had also received a second hot bread basket consisting of Greyere popovers. Great flavors, but at this point we were too full to enjoy them to their fullest potential. Fortunately, I always have room for dessert. We were given a passion fruit dissolvé and a tiny square of raspberry cheesecake. The passion fruit dissolvé was firm like a meringue but was slightly chalky and one-note. The raspberry cheesecake had a presentation that was tiny, yet beautiful, like an afternoon tea treat. The flavors were clean, citrus-y, and tangy.
The final course on our journey was dessert. Olga's dessert was pears poached in brown butter served with soft gingerbread cake and hazelnut ice cream. The gingerbread was very spicy, which I loved and Olga didn't, so extra leftovers for me to take home! I was adventurous and ordered the eggplant baklava which was crispy, butter, sweet, and not too heavy. Unfortunately, after a few bites, I couldn't fit another thing into my stomach and had to request a to-go bag.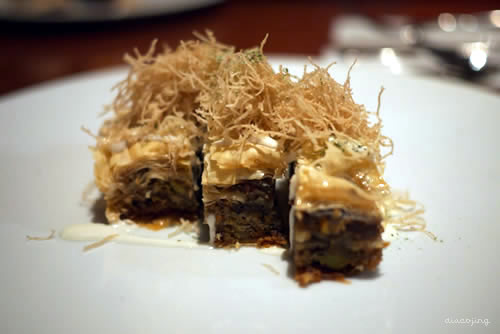 Image on the left by Olga of Mango & Tomato
The end of the meal was brought with a box of treats for each of us and a note of thanks from the house. We met with the chef at the end of our meal and were able to tell him face to face our opinions of the new menu.

Image by Olga of Mango & Tomato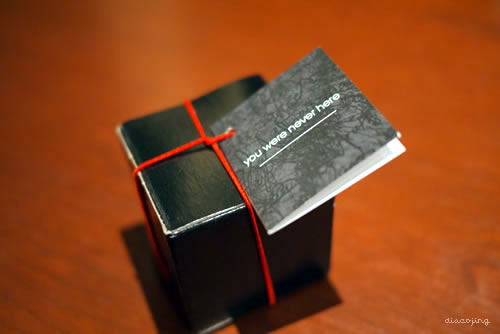 Image on the right by Olga of Mango & Tomato
All in all, I whole-heartedly recommend Zola's new menu if you're in the area. It takes a unique spin on many ingredients and it has dishes for everyone on the spectrum, including safe diners or adventurous foodies. They have a 3 course tasting menu that is $55 and a 5 course tasting menu for $89. Based on diner feedback, the menu will change, so I'd go in to see what they have, if only for delicious drinks, the hot bread baskets, and some huckleberry jus. Service is attentive and knowledgeable and the ambiance reflects something you might see in a spy movie. For most people this might be a tad expensive, so save it for a special occasion or when you want to impress someone.
Thanks to Olga and Lindley for letting me enjoy Zola's new menu! Zola is one of the restaurants that I always hear a lot about, but never get a chance to get to. Now I can cross this restaurant off of my must-dine wish list.