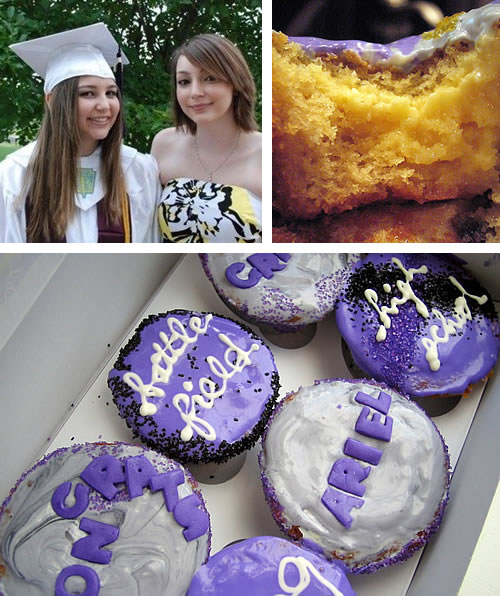 Last summer my younger sister graduated from High School. I made some cupcakes for her actual graduation as well as some for her graduation party that happened soon after. Her graduation cupcakes were vanilla cupcakes filled with a homemade grapefruit curd and topped with a grapefruit-cream cheese frosting. This was when I discovered that adding citrus juice to cream cheese frosting in larger quantities doesn't quite work. I didn't try any of these cupcakes (I had some non-curd-filled ones), but heard they were delicious! I decorated them with hand-written messages or fondant letters, mixed with sprinkles.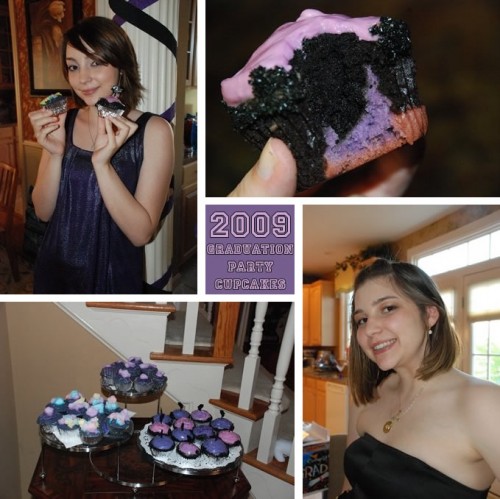 A short time after my sister's actual graduation, she held a party at our house for friends and family. There were games, good food, and of course desserts! I had a drink bar (all alcohol-free of course), including a cotton candy "mojito"! I took this inspiration and made some vanilla cupcakes with purple cream cheese frosting topped with cotton candy. Some of my sister's friends also have gluten-free diets, so I made chocolate/vanilla marbled gluten-free cupcakes topped with purple-tinted frosting. I rolled the cupcakes in black sprinkles and topped them with a graduation pick. In case you couldn't tell, her school colors were purple, black, and silver.
Read the rest of the entry for the full gallery of images and the recipe for the grapefruit curd filled cupcakes.

Vanilla/Grapefruit Cupcakes
Adapted from the Magnolia Bakery Cookbook "Vanilla/Blueberry" Recipe
12 regular cupcakes / 350 degree oven
1/2 cup (1 stick) salted butter, room temperature
1 cups sugar
2 large eggs, room temperature
22 tablespoons (~1-3/8 (scant) to 1.375 c) all-purpose flour
1/2 teaspoon baking powder
1/2 teaspoon baking soda
1/2 cup milk
1/2 teaspoon vanilla
~2/3rd cup grapefruit pulp/zest (optional)
Beat butter on high until soft, about 30 seconds. Add sugar. Beat on medium-high until light and fluffy, about 3 minutes. Add eggs one at a time, beat for 30 seconds between each. Whisk together flour, baking powder, and baking soda in a bowl. Measure out milk and vanilla together. Add about a fourth of the flour to the butter/sugar mixture and beat to combine. Add about one third the milk/vanilla mixture and beat until combined.
Repeat above, alternating flour and milk and ending with the flour mixture. Fold in fruit at this point, if using. Scoop into cupcake papers about half to three-quarters full (depending on whether you want flat or domed cupcakes). Bake for 22-25 minutes until a cake tester comes out clean.
Citrus Curd
For about 12 cupcakes
2 large egg yolks
1/3 cup sugar
2.5 tablespoons freshly squeezed citrus juice, strained
2.5 tablespoons unsalted butter, cut into small pieces
3.5 tablespoons heavy cream
1 teaspoon powdered sugar
Whisk together egg yolks, sugar, and citrus juice in a small, heavy-bottomed saucepan. Cook over low heat, stirring constantly,
until mixture coats the back of a spoon, about 4 minutes. Transfer to a small bowl. Stir in butter, piece by piece. Cover
with plastic wrap, and cool in the refrigerator.
Whip together cream and powdered sugar until stiff peaks form. Fold cream into the chilled curd.
Cream Cheese Frosting
6 ounces of cream cheese
1/4 stick butter
2 cups sifted powdered sugar
1/2 teaspoon vanilla
Bring cream cheese and butter to room temperature by letting it sit out for 1 or 2 hours. Sift powdered sugar into a bowl or onto parchment. Beat butter and cheese at medium speed until creamy. Add half of the sugar and the vanilla. Beat until combined. Gradually add remaining sugar (more if you have to) until you get to the consistency and sweetness you like. Add food coloring here to tint the frosting. Garnish with zest / fruit.