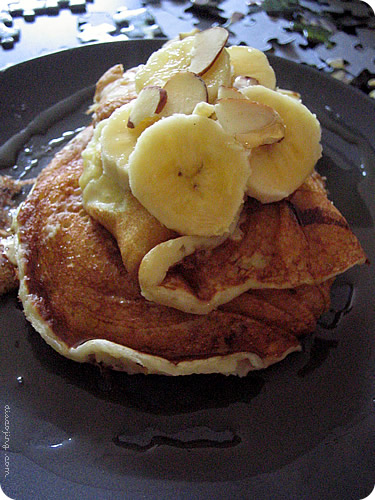 I had some leftover buttermilk from a recent recipe and by request made some buttermilk pancakes from scratch.
1 c. all-purpose flour
1 tsp baking powder
1/2 tsp baking soda
1/4 tsp salt
1.5 tbsp sugar
1 large egg, lightly beaten
1.5 c.

buttermilk

2 tbsp unsalted butter (or use salted, but omit 1/4 tsp salt)
1 banana (or other fruit of choice), almond slivers
Use a griddle or fry pan. Heat it while you whisk together flour, baking powder, baking soda, salt, and sugar in a medium bowl. Add eggs, buttermilk, and 2 tablespoons butter; whisk to combine. Batter should have small to medium lumps. Slice half of the banana and mix it into the batter. Test pan by sprinkling a few drops of water on it. If water bounces and spatters off griddle, it is hot enough. Spray pan with butter-spray or brush pan with pastry brush with butter. Make pancakes whatever size or shape you want. When pancakes have bubbles on top and are slightly dry around edges, flip over. Cook until golden on bottom. Repeat with remaining batter, serve warm. Top with other half of banana (sliced), and top with almond slivers if desired.
This makes more than enough pancakes for two people, I would say three or four people. I look forward to trying this with blueberries, and maybe some other fruit!