The first snow of the year! (Dec 5th)
I went to a Cupcake Exchange/Bake-Off as part of a Yelp event. I really like Chai, but I don't like buttercream frosting, so I was interested as to how these would turn out. The recipe, from The Cupcake Blog, had a recipe to make your own chai spice, but I chose to buy Chai teabags and cut them open.
These cupcakes turned out surprisingly delicious! The chocolate wasn't too deep and the cake was firm (with a crust on top) yet soft on the inside. I didn't really get the chai flavor, but it might be because of the chai that I used and the fact that this was a chocolate cake.
This was also my first attempt at piping frosting (which I think turned out alright). I tried to make chocolate mint leaves, but I didn't put enough chocolate on the leaves so when I peeled the chocolate off, the leaves broke. I was able to salvage about three leaves from the fifty I attempted to make and put silver dragees on the rest.
I didn't win first place, but I did win third (which I later learned was actually 4th place after some math was recalculated). The first place winner was a blow-torched graham cracker crust S'mores cupcake and second place was an Irish Car Bomb cupcake, which I couldn't really compete with. If I had a molten lava center to this cake, I'm sure I would have won!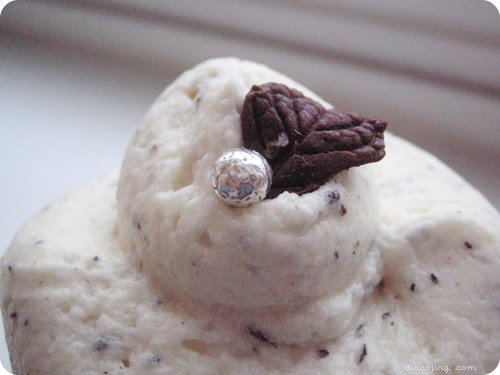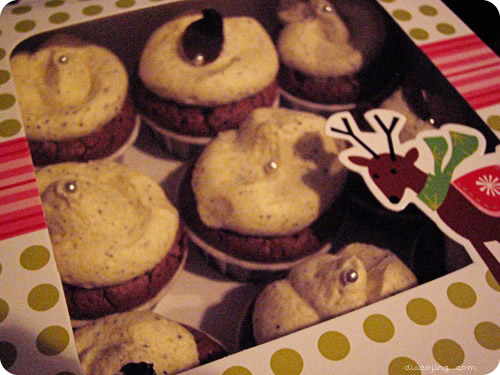 Bad quality photo, but the box is so cute! These were $2.99 from Target.
Cupcake Exchange: Chocolate Chai Spice Recipe
By nicole Published: December 29, 2009
Yield:

24 cupcakes (24 Servings)
These treats, adapted from Cupcake BakeShop by chockylit, are perfect for tea time.
Ingredients
Instructions
Chop the chocolate and add in a heat-safe bowl. Place the bowl over simmering water and melt, stirring frequently until smooth.
Remove from heat and stir in the sugar. Let cool for 10 minutes before beating with a mixer for 3 minutes.
Add one egg at a time until incorporated. Sift the dry ingredients and add to mixer. Stir until no chunks are visible.
Fill cupcake liners 3/4 full and bake at 350 for 25 minutes.
For frosting: Whip butter with mixer until creamy. Add the powdered sugar gradually, then add milk, chai tea, and ginger. Beat until combined.
If needed, add more sugar until it reaches the desired consistency. Pipe onto cooled cupcakes.