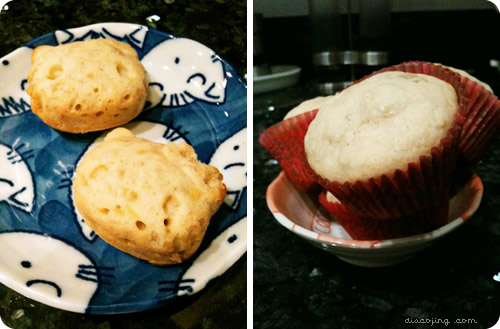 I was snowed in this weekend (still snowed in actually!), and didn't have a chance to eat the bananas I had picked up for on-the-go breakfasts. They were looking awfully brown, so I decided to make banana muffins! This was a great recipe because it used up the last of my cream cheese, butter, and of course, bananas.
A quick search through my Google Reader yielded many results, but I don't have a loaf pan and I didn't have any whole or buttermilk on hand. I also didn't have any nuts, so I subbed the cup of nuts in the recipe below with an extra banana.
Banana & Cream Cheese Muffins Recipe
By nicole Published: February 9, 2010
Adapted from The Sweetest Kitchen
Ingredients
Instructions
In a large mixing bowl, cream the butter, cream cheese and sugar until light and fluffy.
Add egg, beating well.  Beat in bananas and vanilla.
In a separate bowl, combine the flour, baking powder, baking soda and salt; add to creamed mixture.
Transfer to a muffin tin with liners. Bake at 350℉ for 22 minutes for regular muffins, or until a toothpick inserted near the center comes out clean.