今週
の
お弁当

Aug 24th – I made some homemade jam and ate a sandwich of it. Cute elephant baran! The mini crème brûlée is from my friend Stephanie, who nicely gifted it to me last Friday. I thought it was going to taste like peanut butter from the look of it, but it actually tasted like lemon.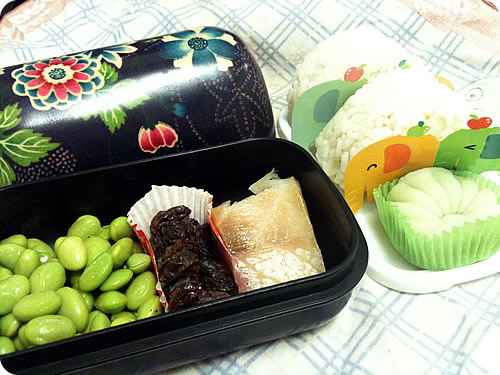 Aug 25th – I was especially efficient on Monday evening and packed up two and a half bentos using the leftover miso rockfish, edamame, and some rice I had frozen earlier to make onigiri. The onigiri is just plain rice with some pickled radishes inside and small strips of nori outside. I used a smaller onigiri mold that I got from Hana Market a while ago to make these. They fit much better than the other onigiri mold I had (now living at my sister's house).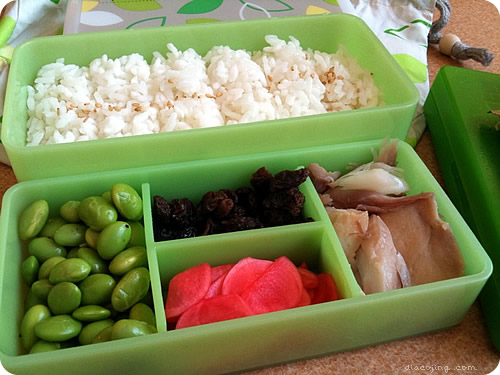 Aug 26th – I had training all day at a building I'd never been to before. The location the training was at has horrible, expensive food so I packed a wonderful bento! I love this new bento because the bottom tier holds so much and the top tier has a very useful divider. I also like the way the light shines through the bento because the plastic is translucent. Top is rice with sesame seeds sprinkled on top, bottom is edamame, raisins, pickled radish, and miso rockfish. Spiced Mate/Apricot Caramel Torte tea and a mini-CLIF bar.
Aug 27th – No Bento. Just a homemade egg salad sandwich and a Shilla strawberry/cream cheese croissant.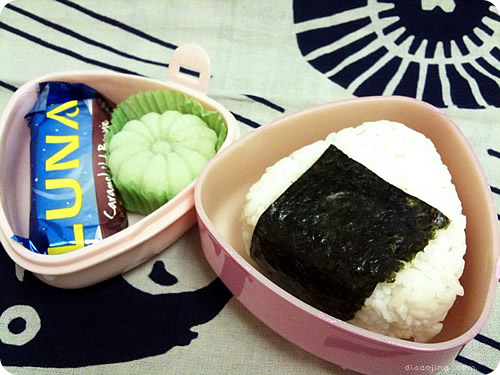 Aug 28th – Mini onigiri, Luna bar, honeydew mochi (Not pictured:  lemon chiffon yogurt). This was just a snackish lunch since I didn't feel like making anything Thursday night and this onigiri had been made Monday.