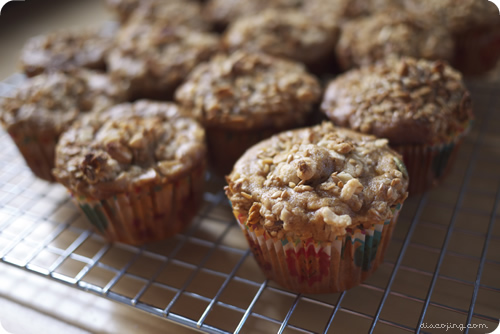 In the fall I went berry and peach picking with my boyfriend at a local orchard (post to come later!) I originally had also planned to pick apples, but by the time we went to the orchard it wasn't apple season. So, we went to our local farmers' market and picked some apples up there!
With the apples, we made an apple pie but there was a lot of apple filling left over, so I used it to make mini apple pies and mixed the rest into pumpkin muffins.
There's no real recipe for the pumpkin muffins. I used a Pillsbury Quick Bread/Muffin mix from the grocery store and added the apples, a 1/4 cup of apple cider (also from the market), and 1-2 tablespoons of rice protein powder to get the mix back to the consistency it was before the apples. I love this mix and stock up on it when it's on sale. It's only sold at certain grocery stores in my area and it's a good go-to when you need to make something and only want to dirty one bowl. Before baking, I topped the batter with some granola and followed the baking directions on the package. Since I added ingredients, it made a few extra muffins.
Everyone loved the muffins at work and at home–maybe they tasted better because they knew they were a little bit better for them?