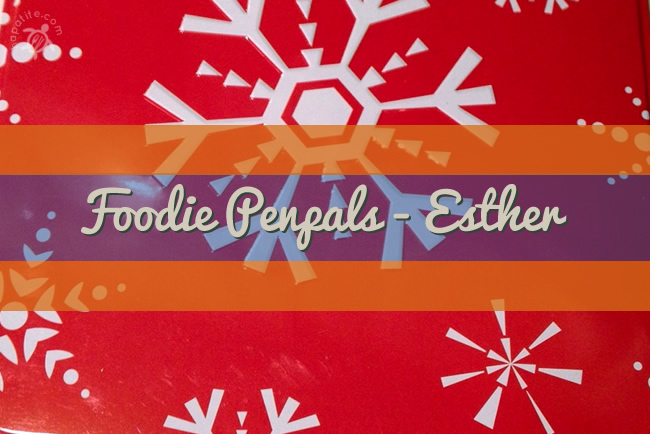 This was my fourth month par­tic­i­pat­ing in Foodie Pen­pals. For this month & Novem­ber, I've been "split­ting" Foodie Pen­pals with my sis­ter, Ariel. We build the boxes together and share the boxes we receive. We totally for­got to doc­u­ment Novem­ber, so this is only our 3rd FPP post. Since our box arrived at my sister's house, I had her type up this Guest Post and snap some the pictures.
What was inside: a great vari­ety of tea (chai, rasp­berry, mint, etc.), a white choco­late macadamia Luna bar, gin­ger chews, spearmint gum, a See's choco­late lol­lipop, and tea bags to place your own loose leaf tea in it! Every­thing came in a fes­tive red snowflake tin – which was per­fect to store my tea in. I've just been stick­ing my teas into the kitchen draw­ers – now I can have them all in one place!

I really enjoyed Esther's pack­age since I feel like she knew me. I unfor­tu­nately gave her really vague guide­lines, say­ing I love tea, Luna bars, choco­late, and on-the-go things. She nailed me!

I love gin­ger chews! I actu­ally get nau­seous some­times and those are really handy to have in your purse.

I really can't wait to try the dif­fer­ent teas you got me and the lit­tle tins are so cute – they have cherry blos­soms and geishas on them. She told me that she got them in Pearl River Mar­ket in NYC. I love going to NYC and I have been there before, so I will pick them up again!

I've never tried the Luna bar fla­vor, but I'm sure it'll be deli­cious. The spearmint gum is always a must have in my purse and I'm always run­ning out.  The choco­late lol­lipop looks promis­ing but I'm sav­ing it for a spe­cial day

Thanks for my per­fect pack­age, Esther!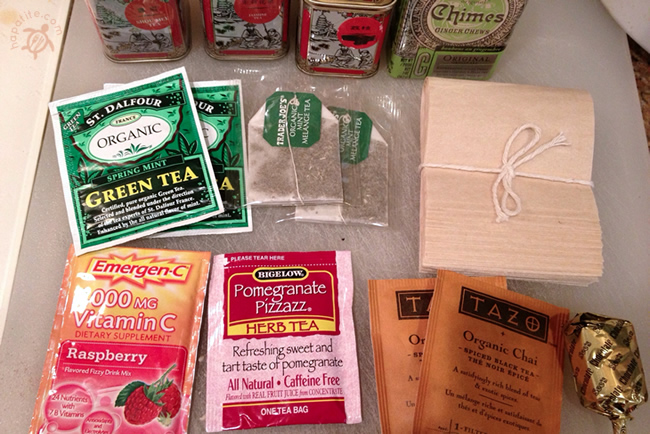 Here's a pic of what we sent to our FPP, who doesn't have a blog: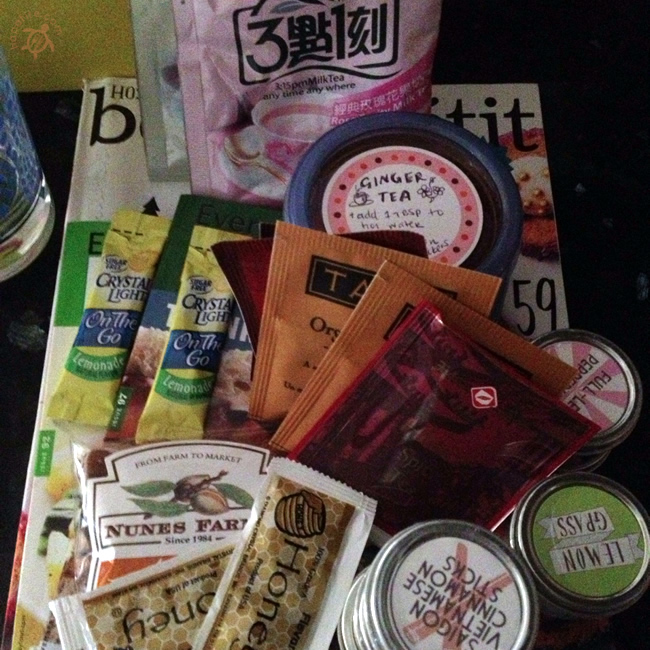 For more infor­ma­tion on Foodie Pen­pals, fol­low the link below.