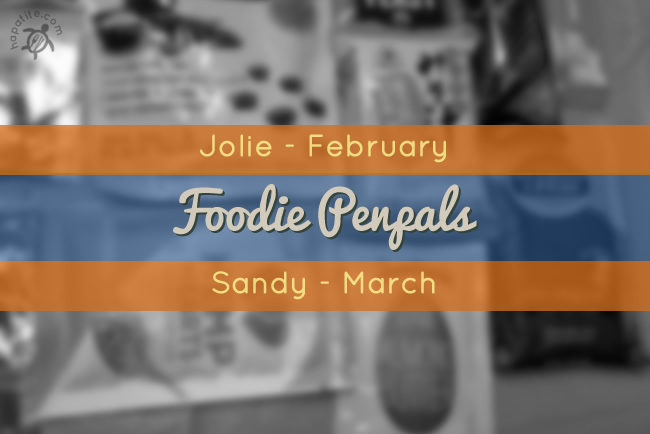 From Nicole: Due to a fam­ily vaca­tion in March, my sis­ter and I neglected to update for Feb­ru­ary and March for Foodie Pen­Pals. Here's what we received from this great program.
Feb­ru­ary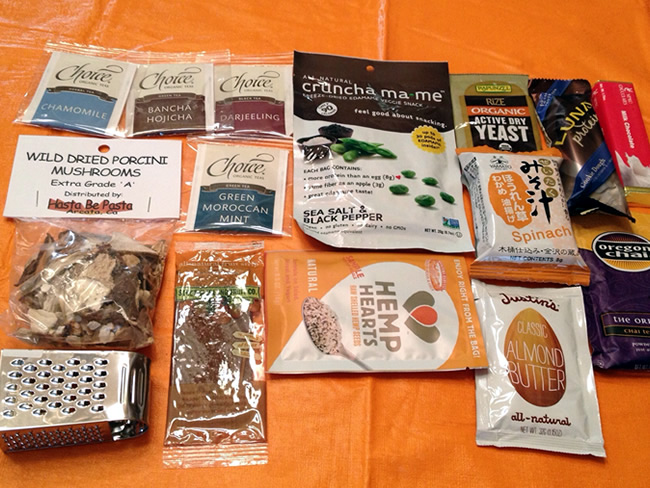 For the Feb­ru­ary pack­age, I received four types of teas (Dar­jeel­ing, Morocco Mint, Chamomile, and Ban­cha Hojicha), a choco­late grater, a choco­late bar, hemp hearts seeds, chai tea latte mix, edamame, spinach miso soup mix, luna cookie dough bar, yeast, fruit leather, dried por­chini mush­rooms, and almond but­ter to go pack.
I just told her that I like to-go things (espe­cially luna bars), tea, and Asian food. The mush­rooms would taste great in the miso soup. I can imag­ine myself grat­ing the choco­late over some risotto or a dessert like a pro. The almond but­ter tastes good squeezed on a fresh apple for a snack. The edamame, fruit leather, and luna bar would be great in a lunch or as snacks!
Thanks for my lovely and cre­ative pack­age, Jolie!
March
For my March pack­age, I received Salted Caramel Star­bucks hot choco­late pack­ages, Cook­ies BBQ sauce, apple cin­na­mon Eng­lish muf­fin slices, apple but­ter, a nutz over choco­late luna bar, choco­late chai tea latte mix, chicken sea­son­ing, and a won­der­ful card.
I really loved the hot choco­late pack­ets, even though there wasn't much caramel taste. Who can resist the rich Star­bucks hot choco­late? I got the dou­ble choco­late for Christ­mas from my mom and boy, is that sweet!
My dad already was itch­ing to use the BBQ sauce on some chicken and wings. He used it all already! He loves it and wants to order more from their site. At $2-something a bot­tle, that's so cheap! Who knew that Iowa had a hid­den gem like this? It was delicious.
The apple but­ter was great and the luna bar was my favorite fla­vor. The muf­fin slices were great for break­fast too.Thanks for my per­fect pack­age, Sandy!
For more infor­ma­tion on Foodie Pen­pals, fol­low the link below.