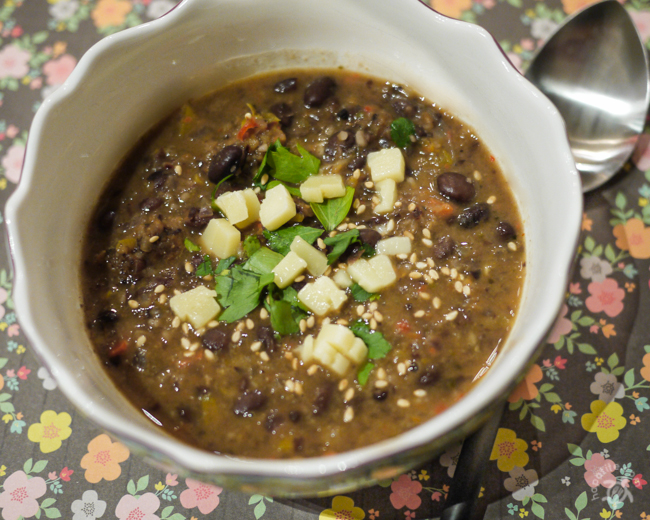 For some rea­son I don't make too many soups. Some­thing about them just seems daunt­ing. This soup is fast, easy, and healthy. The best part is that it only uses one pot and one blender (or food proces­sor). If you have an immer­sion blender, then this is truly a one-pot meal.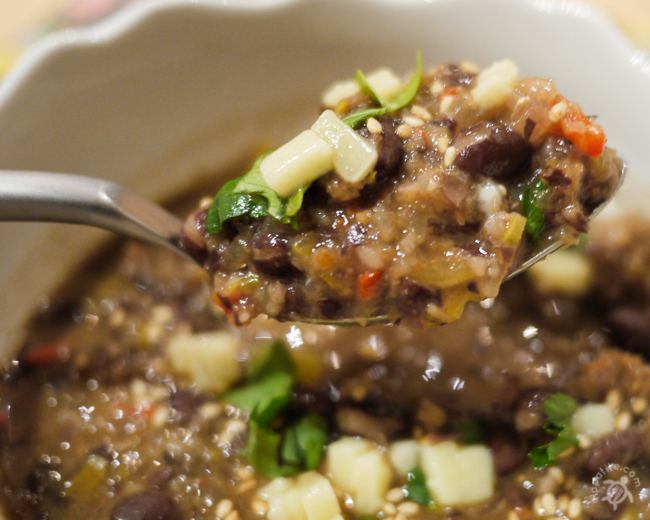 I've made this soup sev­eral times in the past month and it's easy to cus­tomize. It's also pretty cheap to make, espe­cially if you stretch it by adding some rice or quinoa to it. I've also added frozen corn and peas to it to add some more nutri­tional value. As it is, it's under 500 calo­ries per warm, hearty, bowl.
The ver­sion pic­tured here has vegan chorizo in it instead of dried chorizo, and is topped with some chopped gouda and sesame seeds.
Fast & Easy Black Bean Soup Recipe

By nicole Pub­lished: Feb­ru­ary 3, 2014
Yield:

2-4 bowls of soup

Prep:

10 mins

Cook:

20 mins

Ready In:

30 mins
This recipe is adapted from The Wash­ing­ton Post, which stems from "Eat­ing Cuban" by Bev­erly Cox and Mar­tin Jacobs (Stew­art, Taboori & Change, 2006).
Ingre­di­ents
Instruc­tions
Heat the oil in a large saucepan over medium heat. Add the chorizo/protein of choice and cook until browned, stir­ring often. Trans­fer to a plate lined with paper tow­els and set aside.
Add the onion to the pan and cook until it begins to soften, about 5 minutes.
While the onion is cook­ing, com­bine the bell pep­per pieces, and gar­lic in a food proces­sor or blender. Pulse just until coarsely chopped and not too wet. Trans­fer the mix­ture to the pan and add dried oregano and cumin, stir­ring to com­bine. Reduce the heat to medium-low and cook for 6 to 8 min­utes, stir­ring occa­sion­ally, until ten­der and fragrant.
Trans­fer the mix­ture back to the food processor/blender and add the brown sugar, vine­gar and 1 can of the beans with their liq­uid; process until fairly smooth.
Return the mix­ture to the pan and add the remain­ing black beans (rinsed and drained), the broth or stock and the cooked pro­tein. Sea­son with salt to taste, if desired. If the soup seems too thick, add a lit­tle more broth.
Cook over medium to medium-low heat for 6 to 8 min­utes. Divide the soup among indi­vid­ual bowls and gar­nish with chopped cilantro, sesame seeds, and cheese if desired.
Addi­tional veg­eta­bles such as canned/frozen corn or peas can be added, or a grain such as rice or quinoa to make this soup more fill­ing and yield more servings.