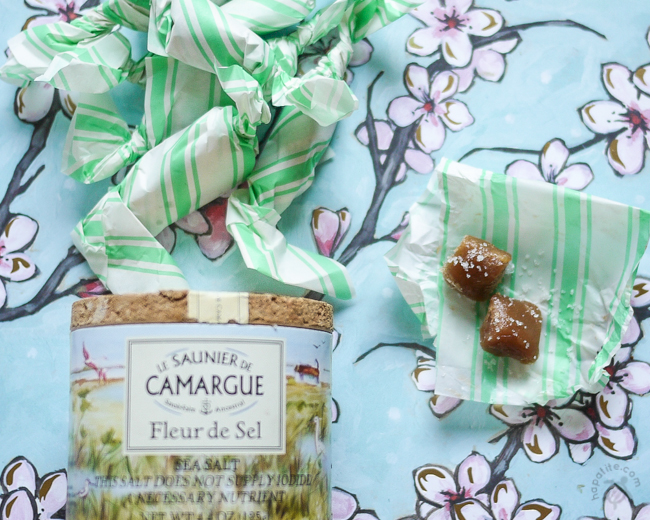 I finally got to knock some­thing off of my bucket list! My fiancé and I have been want­ing to make caramels for a while, espe­cially after we used our candy ther­mome­tor to make some crunchy tof­fee this past winter.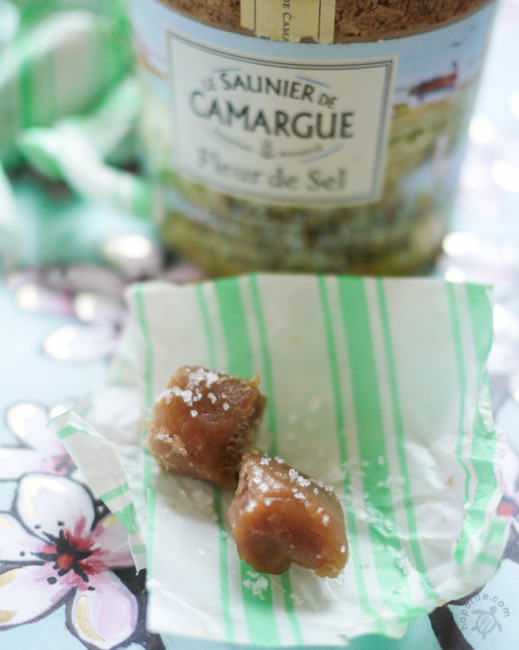 For this month's Secret Recipe Club, I had the delight of perus­ing Lynsey's site, Lynsey Lou's. I had sev­eral recipes I wanted to try out from this south­ern gal's recipe index before I spot­ted the caramels: Blue­berry  Lemon Cup­cakes with Pome­gran­ate Frost­ing, Cheez-it Crusted Chicken, Home­made Marsh­mal­low Creme, Brown But­ter Caramel Cook­ies, and  Garam Masala Muffins.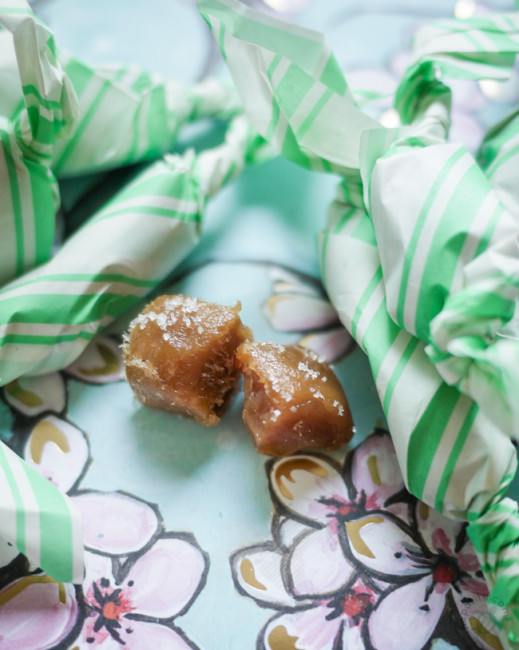 These caramels, by way of Bare­foot Con­tessa, really hit the spot. I am quite picky about the tex­ture of my caramels and like them on the soft side, but not too runny so that they get all over your face. I would bring these to room tem­per­a­ture before eat­ing, lest you crack a tooth! Next time I might try cook­ing them a lit­tle less so that sugar doesn't harden up quite so much, as well as exper­i­ment­ing with some flavors.
If you're feel­ing up for it, you can dip some of the caramels in choco­late. It was messy, but well worth it (hence the lack of photos).
Check out the other Secret Recipe Club­bers below, or head on over to Lynsey Lou's.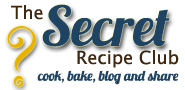 Load­ing InLinkz ...
Fleur de Sel Caramels Recipe

By nicole Pub­lished: April 28, 2014
From Ina Garten's Bare­foot Con­tessa How Easy is That?
Ingre­di­ents
Instruc­tions
Line an 8-inch square bak­ing pan with parch­ment paper, then brush the paper lightly with oil, allow­ing the paper to drape over 2 sides.
In a deep saucepan, com­bine the water, sugar and corn syrup and bring them to a boil over medium-high heat. Boil until the mix­ture is a warm golden brown. Don't stir – just swirl the pan to mix. Watch care­fully, as it will burn quickly at the end!
In the mean­time, in a small pan, bring the cream, but­ter, and 1 tea­spoon of fleur de sel to a sim­mer over medium heat. Turn off the heat and set aside.
When the sugar mix­ture is a warm golden color, turn off the heat and slowly add the cream mix­ture to the sugar mix­ture. Be care­ful - it will bub­ble up vio­lently. Stir in the vanilla with a wooden spoon and cook over medium-low heat for about 10 min­utes, until the mix­ture reaches 248 degrees (firm ball) on a candy ther­mome­ter. Very care­fully (it's hot!) pour the caramel into the pre­pared pan and refrig­er­ate for a few hours, until firm.
When the caramels are cold, pry the sheet from the pan onto a cut­ting board. Cut the sheet in half. Start­ing with a long side, roll one piece of the caramel up tightly into an 8-inch-long log. Repeat with the sec­ond piece. Sprin­kle both logs with fleur de sel, trim the ends, and cut each log in 8 pieces. Cut glas­sine or parch­ment papers into 4 x 5-inch pieces and wrap each caramel indi­vid­u­ally, twist­ing the ends. Store in the refrig­er­a­tor and serve the caramels chilled.