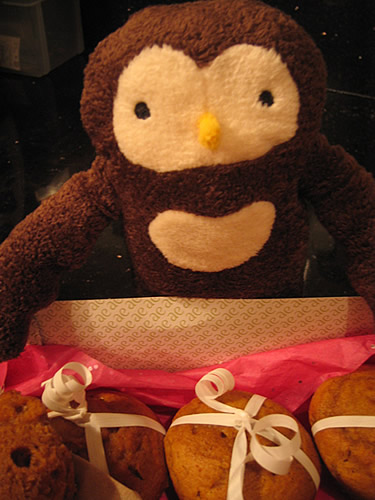 Happy Valentine's Day!
Tomorrow is my sister's (belated) birthday party, so I decided to make pumpkin muffins. (I already gave her a birthday present on her real birthday). I just used the Pillsbury Pumpkin Bread mix, but made them muffin style. It was also the first time that I used silicone in the oven! I used a Hello Kitty muffin mold as well as some silicone muffin cups that my mom had given me. Um, turns out that "fill cups 3/4 full" means actually fille 3/4 full, not just-as-long-as-it's-not-100%-full, because the muffin cups really puffed up and the muffin molds needed TLC after they overflowed onto each other (I had to clean 'em up and re-bake for a few minutes).
Here's the result, I hope she likes them!