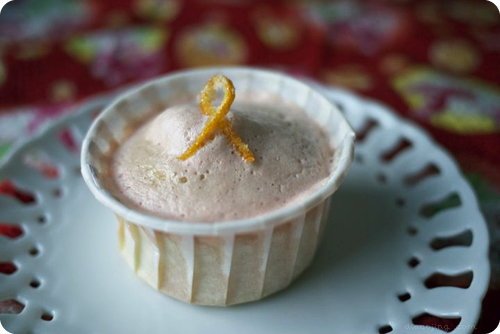 This month my office was having a potluck, only this time it was a breakfast potluck! I thought this would be a perfect time to try my hand at the Mystery Box Cupcake Challenge I've been seeing over at Sweetest Kitchen.
This month's challenge was Orange and I had been dying to make some mimosa cupcakes–great for breakfast, right? If you feel inclined to vote for me, please head on over there on October 20th to cast your vote.
These cupcakes have orange zest and champagne in the cake, are filled with orange curd, brushed with champagne, and topped with a champagne whipped frosting and a candied orange peel. The cakes themselves seemed to go over well at work, but I wasn't quite happy with them. I tried (again) to make a frosting involving corn syrup and egg whites and it just didn't turn out. The cake was a little dense for my taste, and the orange curd didn't sit long enough before filling the cupcakes.
I was imagining a light, bubbly, citrus taste, but got one that was sticky and heavy. Everyone at work seemed to like them so much, so I'll link to the two recipes I combined for this one: Loves to Eat & Liz in Life. Next time I'd make a simpler orange cake with a champagne/whipped cream frosting. Sometimes simpler is better!
The winner of October's Mystery Box Cupcake Challenge will receive prizes from: Angela's Images (a selection of handmade crafts; Bake It Pretty (a $5 electronic gift card); Beanilla (2-fold Madagascar vanilla extract & 3 Tongan vanilla beans); Hello Hanna (a pack of Sweet Stands cupcake stands); Lisa Orgler (an 8.5″x11″ original art print of your choice); Miss Kitty Creations (a handmade cupcake charm of your choice); Sweet Cuppin Cakes (a prize pack worth $25); Tundra Books (a selection 3 very sweet children's books). Thank you to all our prize sponsors!