This is another meal that was inspired by our favorite dish on a recent vacation to San Francisco.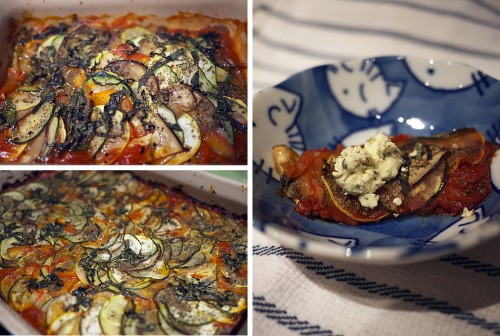 Have you ever seen the movie Ratatouille? It's one of my favorite movies of all time, and holds a special place in my heart. My boyfriend and I were able to snag special screening passes for this movie before it was officially released and right before I started studying abroad in Japan. The movie was great and I saw a lot of cute advertisements for Ratatouille (or Remy's Yummy Resto as it's called) when I was there.
After Smitten Kitchen's Ratatouille popped up in my RSS feed, I knew I had to have some.
I've had jarred ratatouille from Trader Joe's before and it was good, but this was so much better. It came together very quickly (thank you mandoline!) and used all local ingredients. I misread the recipe and didn't pack the slices as close as I should have, so I made another mini pan of ratatouille. Instead of thyme, I used some local basil and topped the ratatouille with some bovre cheese. I also used tomato paste mixed with some leftover pasta sauce for the red sauce on the bottom. This was alright as a meal, but would have been much better served as a side or atop some pasta (or couscous like SK did).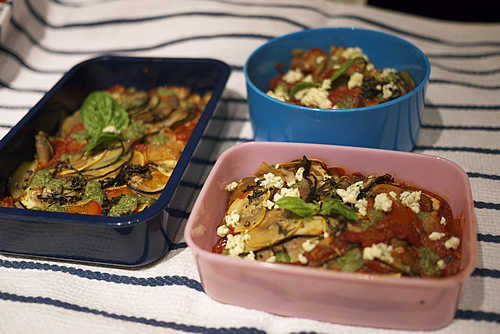 Since this recipe yields so much, I was able to pack three lunches with it! You know it's got to be good if my boyfriend asked for it to be boxed up. The round blue box was mine and the pink box went to a vegetarian coworker.