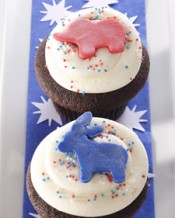 We had Election Day themed cupcakes here but unfortunately, I wasn't able to snag some.
These were available at Hello Cupcake, but I decided to make my own (with some help) using a Georgetown Cupcake recipe published in Martha Stewart.
The recipe is slightly inaccurate (it was also posted in the Washington Post with different measurements and servings sizes). There was no recipe for the frosting, so I made (and by "I", I mean "by boyfriend's mother") cream cheese frosting and dyed some of it blue (democrat blue) with animal crackers as the animals (instead of the pictured fondant animals).
Chocolate and Vanilla Election Day Cupcakes
Makes 2 dozen
– 1 1/4 cups all-purpose flour, sifted
– 1/2 teaspoon baking soda, sifted
– 1/4 teaspoon salt
– 1 cup milk
– 1 1/4 teaspoons pure vanilla extract
– 1/2 cup (1 stick) unsalted butter, preferably European-style, room temperature
– 1 1/4 cups sugar
– 2 large eggs, room temperature
– 1/2 cup cocoa powder, sifted
– Frosting
– Optional: 1 (24-oz) package fondant, edible glitter and/or nonpareils
– Red or blue paste food coloring
1. Preheat oven to 350 degrees. Line standard-sized muffin tin with 12 cupcake liners; set aside.
2. In a large bowl, whisk together flour, baking soda, and salt; set aside. In a small bowl, add milk and vanilla extract; stir to combine and set aside.
3. In the bowl of an electric mixer fitted with the paddle attachment, cream together butter and sugar until light and fluffy, about 5 minutes. With the mixer on low, add eggs, one at a time, mixing well after each addition. Add flour mixture in three parts, alternating with milk mixture; beat until just combined. Add cocoa powder and beat until just combined.
4. Fill each muffin cup two-thirds full with batter. Transfer to oven and bake until a cake tester inserted into the center of a cupcake comes out clean, 18 to 20 minutes. Let cool in pans for two minutes before transferring to a wire rack to cool completely.
5. Transfer frosting to a pastry bag fitted with a large 5/8-inch round tip (such as Ateco No. 808). Pipe frosting onto cooled cupcakes and set aside.
6. Meanwhile, press your thumb into the center of the fondant to make a well. Place a small amount of food coloring (red for Republican, blue for Democrat) in the well and knead fondant until color is well blended. Continue to add more food coloring to fondant until desired color is achieved. Roll out into a 1/16-inch-thick sheet.
7. To make Republican elephants, cut out 12 elephant shapes using 2-inch elephant cutters. Sprinkle with edible glitter. To make Democrat donkeys, cut out 12 bear shapes using a 2-inch bear cutter. Using a 2-inch daisy cutter, cut out enough daisy shapes so that you have 36 petals; sprinkle bear shaped and daisy petal fondant with edible glitter. Top each cupcake with a fondant elephant or bear, using two daisy petals to make donkey ears on each bear and one petal to make the tail. Sprinkle cupcakes with nonpareils and serve. (I used animal crackers)
There's a simple cream cheese frosting recipe linked to the cupcake recipe (along with a handy video!). It says its for only 1 dozen cupcakes, but I used this for all 24 of them.
Cream Cheese Frosting – Chocolate and Vanilla Election Day Cupcakes
– 4 tablespoons unsalted butter, room temperature
– 4 cups confectioners' sugar, sifted
– 1/4 teaspoon pure vanilla extract
– 6 ounces cream cheese, room temperature
Place all ingredients in the bowl of an electric mixer fitted with the paddle attachment; beat until well combined.
Here's my final version: