I've been slacking on posting bento, but not on packing them! I make my bento the night before and usually take a picture of it at work (love that fluorescent lighting). By the time I get home, it's time to make dinner and go to bed.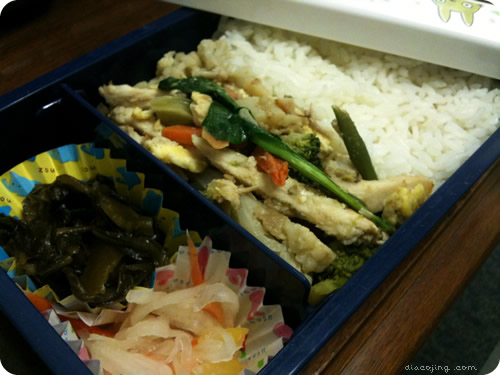 Jan 14th – Rice; Vegetables and Pork stir-fried from New Years; cabbage tsukemono; kohaku namasu
Jan 20th – Another leftovers bento. Milk tea pocky; vegetable/pork stir-fry; kohaku namasu; cabbage tsukemono; roll and leftover lobster macaroni and cheese from Jackson's Mighty Fine Lucky Lounge. The mac and cheese went mostly uneaten.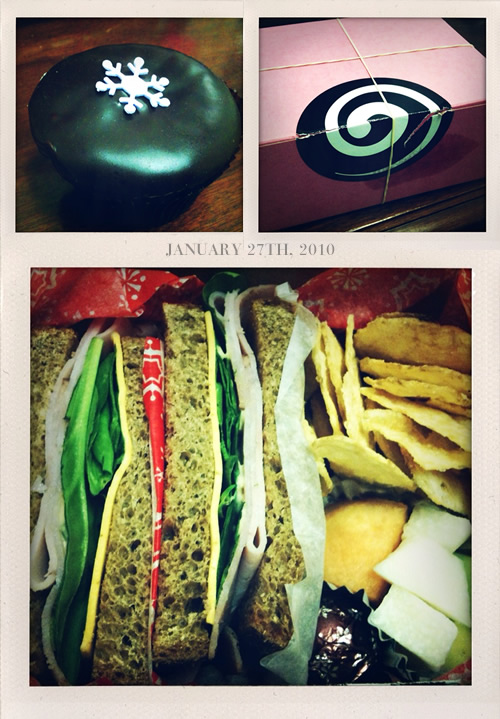 Jan 27th – I had class after work this day, so I packed my food in a cupcake box that had come with a purchase earlier in the week. ham, spinach and cheese sandwich; gingerbread truffle; fruit salad; baked chips. This was too much food since half of the sandwich, the truffle, and the fruit salad went uneaten.
Jan 28th – kohaku namasu; homemade applesauce; milk chocolate truffle; rice with sesame seeds; lop cheung cooked in ginger-chile sauce.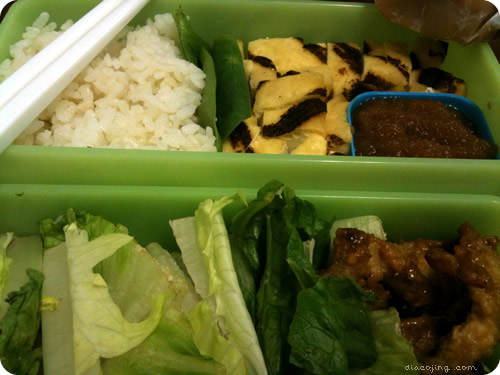 Jan 29th – Rice; spinach; grilled tofu; homemade applesauce; harry and david soft caramel; thai chicken dumpling; lettuce; random "Asian chicken". A lot of this food was from the Whole Foods prepared food bar, which I have now concluded that I do not like. The caramel was delicious!
Feb 2nd – I had a meeting off-site this day, so I wanted something that was small and I wouldn't have to carry around all day after lunch. sandwich on challah bread; strawberries and pineapple; homemade applesauce; salt and vinegar chips. This was a lot of food, so the chips were eaten later as a snack. The pink snack box is really an onigiri container!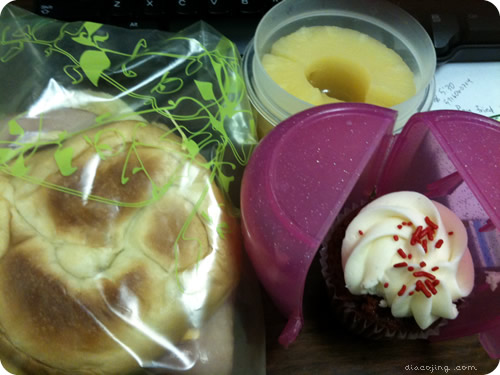 Feb 3rd – Another challah sandwich; pineapple slices; red velvet cupcake from the bakery in my building.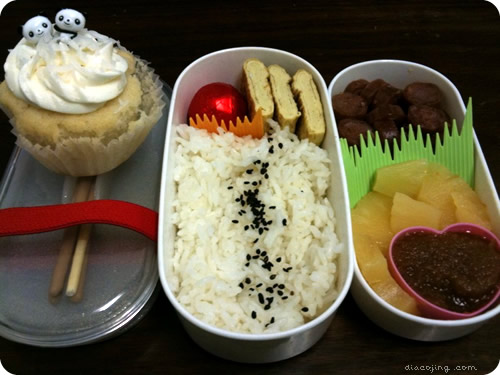 Feb 4th – Milk tea pocky, coconut cupcake; dark chocolate truffle; tamagoyaki; rice with black sesame seeds; lop cheung; pineapple chunks; homemeade apple sauce. This was so much food! I ate the sausage, two out of three of the tamagoyaki and most of the rice. Nothing else!