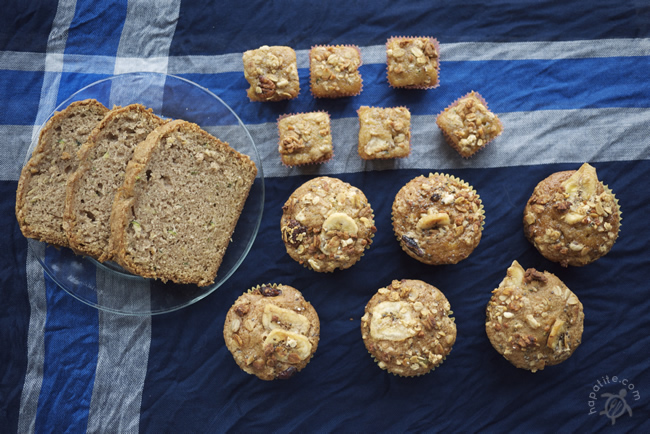 When my boyfriend was grow­ing up, he had a neigh­bor that grew zuc­chini. Every year he would bring over a bas­ket of zuc­chini and Dan's mom would make some zuc­chini bread for him in return. This recipe for zuc­chini bread comes from his fam­ily and has been been tested and approved through all the years. This recipe makes two larger loaves, though some­times I opt to make half in loaf for­mat and half in muffins, or just halve the recipe to make one loaf. Some­times I top the bread with a sugar glaze, gra­nola, or nuts.
Last Sun­day we went to Hollins Farm to pick fruits and veg­eta­bles, includ­ing zuc­chini. Truth­fully, I picked five small zuc­chini (about the size of my fin­ger) just for their squash blos­soms. After har­vest­ing the squash blos­soms, I grated the zuc­chini and had just enough for one loaf of bread. Waste not, want not!
Update: This bread always go so fast, so I orig­i­nally pub­lished this post with Insta­gram pho­tos with the promise of updated pic­tures and an attempt at zuc­chini bread with pineap­ple or dried fruit in it to make this bread per­form dou­ble duty. I'm happy to report that I was forced to impro­vise this ver­sion recently when I was short a ½ cup of zuc­chini and 1 egg. I added in ¼ cup pineap­ple, ¼ pineap­ple juice, and a cou­ple hand­fuls of dried pineap­ples and wal­nuts. The bat­ter was look­ing a lit­tle thin so I added a cou­ple spoon­fuls of Crunchy Bis­coff Spread before pop­ping them into muf­fin lin­ers and top­ping with gra­nola, banana chips, and chia seeds to make them "health­ier". I tasted one and they were incred­i­bly moist and deli­cious even two days later. This ver­sion is great, but some peo­ple hate nuts or pineap­ple in their baked goods, so know your audi­ence well.
Zuc­chini Bread Recipe

By nicole Pub­lished: August 25, 2012
Yield:

2 large or 3 medium loaves (24 Servings)

Prep:

10 mins

Cook:

60 mins

Ready In:

1 hr 10 mins
This recipe has been in our fam­ily for years. It is extremely ver­sa­tile in terms of por­tions and mix-ins and is always a crowd favorite.
Ingre­di­ents
Instruc­tions
Grease and flour two 8 x 4 inch pans (some­times I use a parch­ment sling). Pre­heat oven to 325° F.
Beat eggs until fluffy and light. Slowly add sugar and beat well. Add oil and vanilla.
Stir in zucchini.
Sift flour, salt, bak­ing pow­der, soda, and cin­na­mon and add to wet mix­ture until combined.
Pour bat­ter into pre­pared pans. Bake for an hour, or until tester inserted in the cen­ter comes out clean.
Cool in pan on rack, then remove and slice.