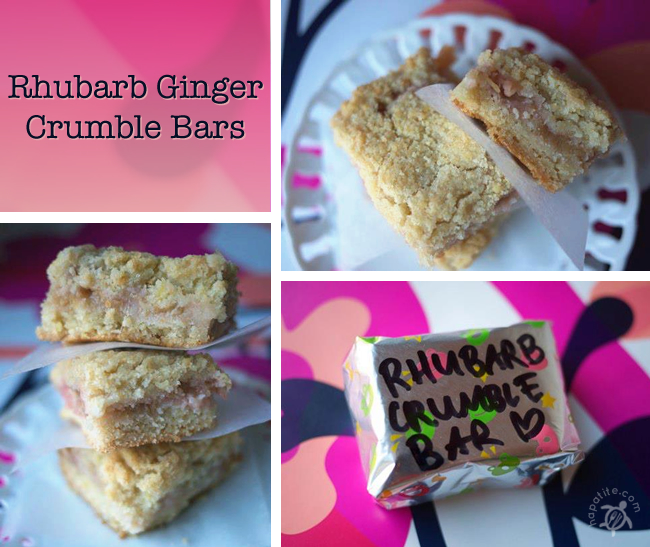 Have you ever tried rhubarb? I've met many peo­ple who had never tried it, and of those that have tasted it, it seems peo­ple have a love/hate rela­tion­ship with it. If I had to describe rhubarb, I'd have to say it's as if straw­berry and cel­ery had a child. It goes well in baked recipes paired with sweet berries, or in this case, zingy ginger.
This week at my office we're hav­ing a bake sale and hold­ing raf­fles for Susan G. Komen Race for the Cure®, end­ing with atten­dance at the race in DC. I'm think­ing I might take a risk and make these rhubarb crum­ble bars. They're pink and fes­tive for breast can­cer aware­ness, but will any­one buy them? Or maybe I'm secretly hop­ing no one buys them so I can eat them all.
You can use this recipe as a base and swap out any fruit you like. I pre­fer it with a touch of car­damom in the crumb top­ping, but you can swap it out with a dif­fer­ent spice or omit it alto­gether. Pink pep­per­corn would go nicely and be extra-festive.
Rhubarb Gin­ger Crum­ble Bars Recipe

By nicole Pub­lished: April 30, 2013
Yield:

16 Serv­ings

Prep:

15 mins

Cook:

45 mins

Ready In:

60 mins
This is a com­bi­na­tion of two dif­fer­ent recipes, one from Eat Make Read and one from Alexandra's Kitchen.
Ingre­di­ents
Instruc­tions
Pre­heat the oven to 375º. Grease a 9×13 inch pan.
Pre­pare the dough: In a medium bowl, stir together sugar, flour, and bak­ing pow­der. Mix in salt and lemon zest. Use a fork to blend in the but­ter and egg. The dough will be crumbly. Pat the dough into the pre­pared pan.
Pre­pare the fill­ing: In another bowl, stir together the sugar, corn­starch and lemon juice. Gen­tly mix in the rhubarb and gin­ger. Sprin­kle the rhubarb mix­ture evenly over the crust.
Pre­pare the crumb top­ping: 4. Stir together flour, brown sugar, and salt. Add the but­ter and mix up with your fin­gers until clumps form. Sprin­kle on top of rhubarb filling.
Bake in pre­heated oven for 45-50 min­utes, or until top is slightly brown. Cool com­pletely before cut­ting into squares.