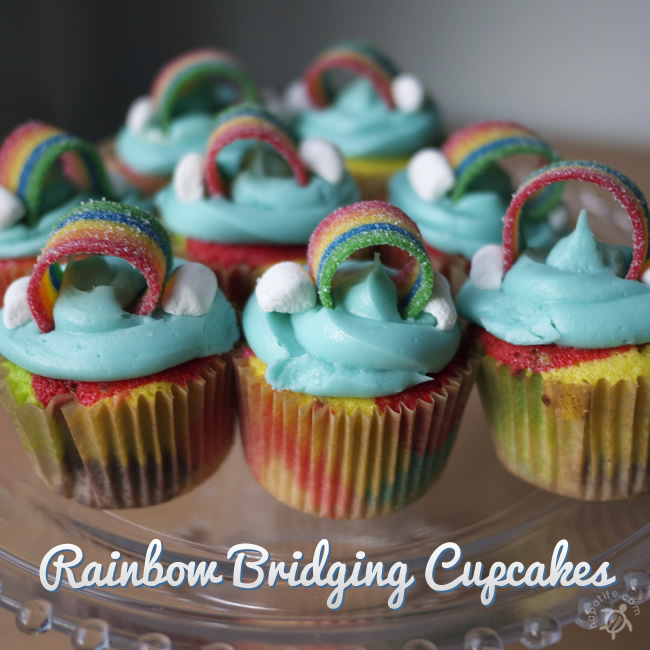 With Hur­ri­cane Sandy approach­ing, I thought it might be a good idea (while we have power) to post about these rain­bow cup­cakes.  I'm not sure that there will be a rain­bow after Sandy, but you can make your own with these cupcakes!
I made these cakes for a Girl Scout Cer­e­mony where a troop was bridg­ing from Cadettes to Seniors. As a result, they get a rainbow-bridge patch to sig­nify their "bridging".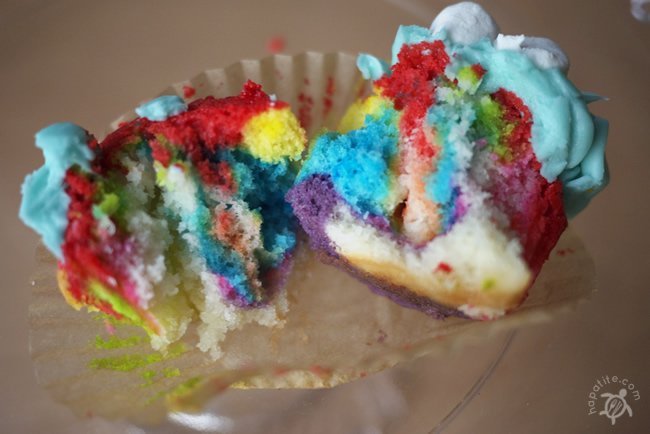 I used light color lin­ers so that the col­ors would show through. If I had to do this again, I would omit the white swirl in the rain­bow and keep it to only col­ors. The addi­tion of the white swirl made it look more like paint­ball or graf­fiti cup­cakes instead of a true rainbow.
I used Duff Elec­tric Color Gels that my Mom gave me as a gift a while back. Because they are "elec­tric" col­ors, they are a bit off com­pared to pri­mary col­ors which are much deeper. For the red, orange, and yel­low I used Williams-Sonoma Vivid Food Pastes. If you don't want dyed skin, wear gloves. I didn't care so ended up with rain­bow fingers.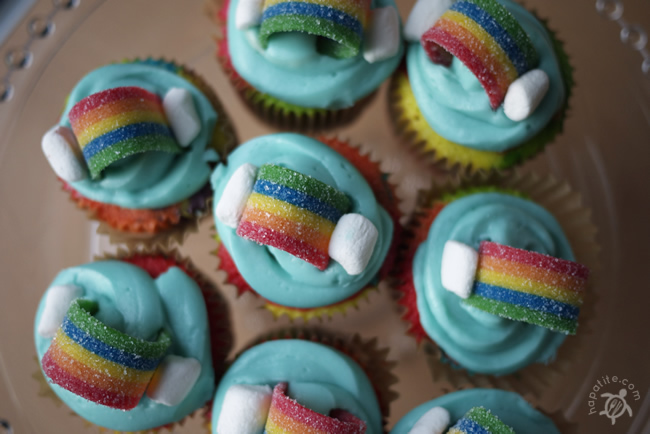 Mix­ing the food col­or­ing into the bat­ter was tricky because of the cake recipe I chose. I used the sim­plest White Layer Cake recipe I could find from Martha Stew­art and I did not like the taste or process at all. I was won­der­ing why every­one that made rain­bow cakes started with a box mix; I fig­ured that mak­ing a white mix from scratch and then col­or­ing it 7 dif­fer­ent col­ors and then swirling it wouldn't add too many steps. Sadly, the cake I picked required fold­ing in of egg whites at the end which just made it bake weird. The worst thing? After bak­ing it tasted like box mix!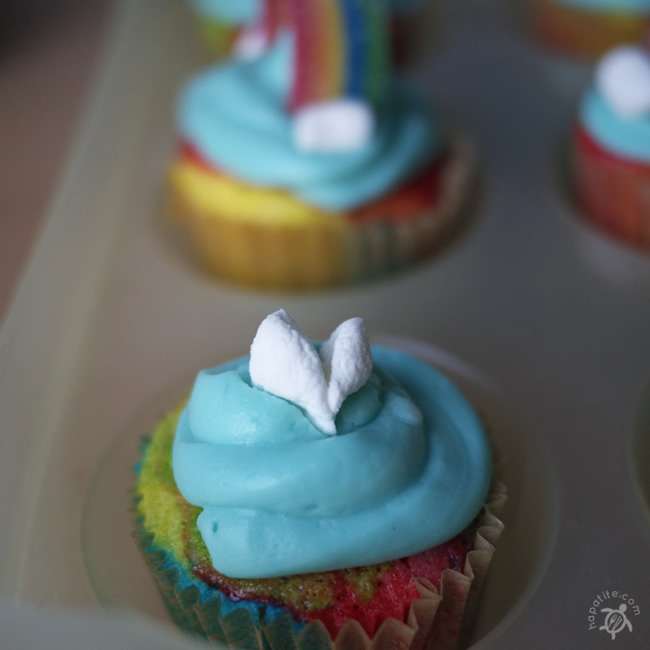 But, these cup­cakes weren't really about taste. It was about pre­sen­ta­tion. I went to a local drug­store and picked up some rain­bow strips and mini-marshmallows. I dyed a sim­ple cream cheese frost­ing blue to sim­u­late the sky and cut the strips. You'd think that over 8 feet of rain­bow strips would be enough, but I ran out and soon had to impro­vise. I cut some mini-marshmallows in half and fash­ioned hearts out of them. I had to cut all the mini-marshmallows in half any­ways because un-cut they would not coop­er­ate with the cup­cake tops.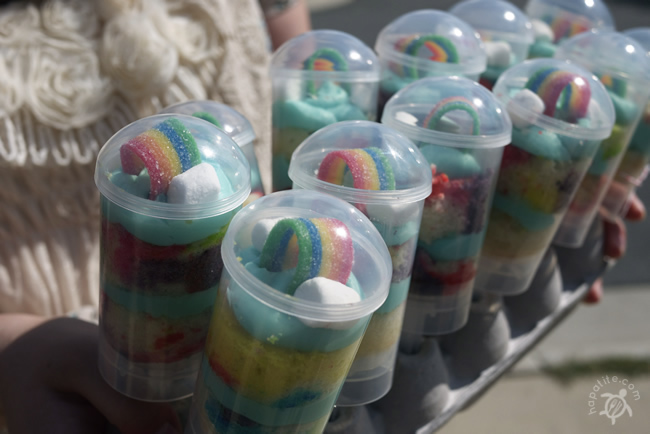 This was also my first time ever mak­ing cake push pops! I bought the con­tain­ers from The Baker's Kitchen, but am not sure I would buy them again in hind­sight. At over $1 a piece, you bet­ter believe I was going around to all the kids and col­lect­ing them for wash and re-use.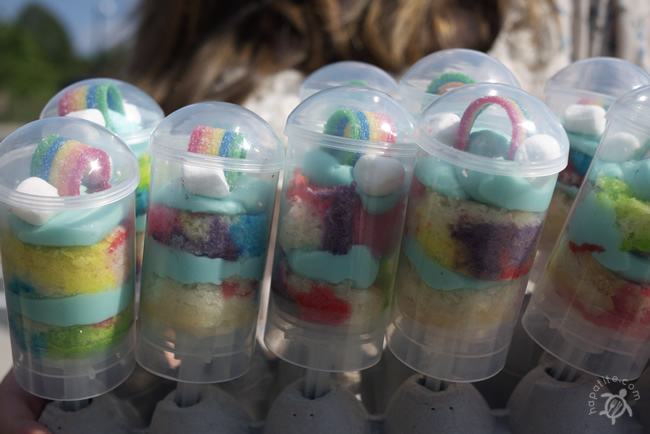 To make these cakes, I made one 9″ cake by drop­ping in white and col­ored bat­ter and swirling it together. After bak­ing and cool­ing, I cut it in half. Some of the cake was over­done and some was still gummy. This was prob­a­bly because of the pock­ets of egg whites that the recipe had me fold in. I then used a 1⅞" cut­ter to cut rounds of cooked cake, plopped them in, and lay­ered with icing.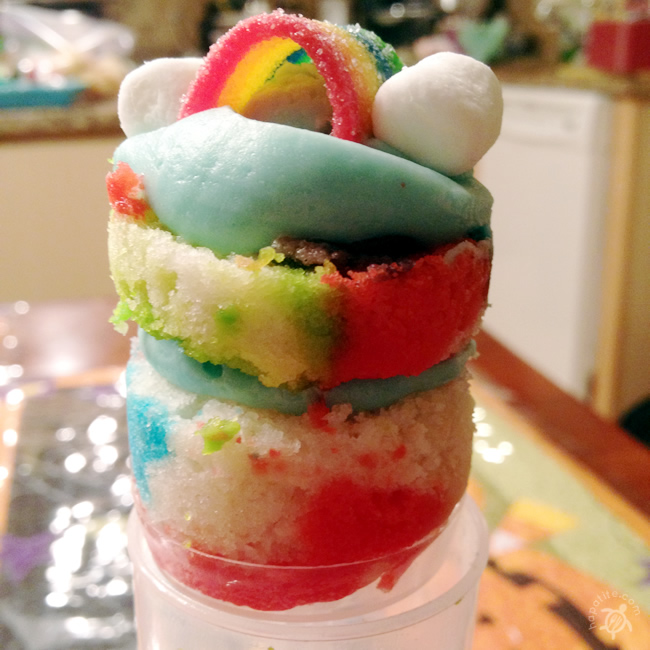 I tried to keep the icing to a ring just around the out­side of the cake when lay­er­ing because I did not want them to get too sweet. Since the main audi­ence for these cakes was chil­dren, I didn't fret too much over the dis­ap­point­ing fla­vor of the cake. I made extra for my office, which unfor­tu­nately, has been spoiled by the qual­ity of my pre­vi­ous baked goods.
Every­one loved the nov­elty of the push-pops and asked where they were pur­chased from. My home, silly!