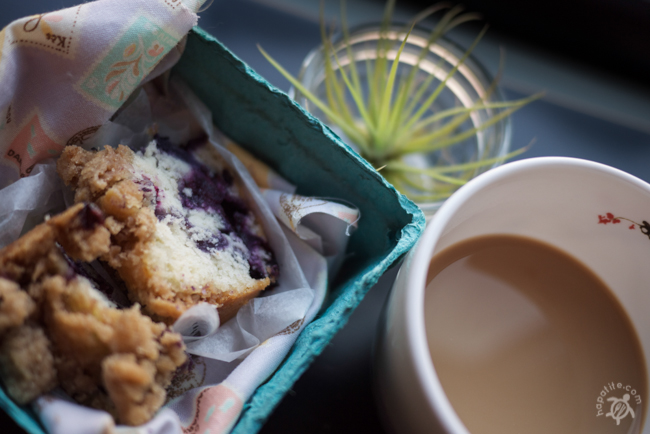 In 2011 we tried our hand at a "pick your own" orchard. This was not our first time–we had picked apples at an orchard before, but this time we went in the sum­mer to get some peaches and blue­ber­ries. Some­thing about pick­ing your own fruit makes it taste so much better.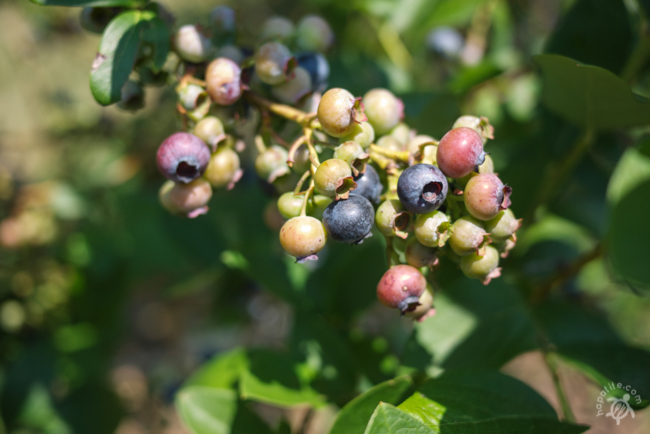 Each time we make the deci­sion to head out west to the part of Vir­ginia where these farms are, we try to pick a dif­fer­ent one. I want to be able to com­pare the dif­fer­ent orchards and offer­ings to decide which one I like best, so that I can spread the love when find "our" place.
We're still on the search for a per­fect place. Last year we went to a place that had black­ber­ries, pep­pers, and squash, but we got a flat tire on the way back, so that soured it a bit for us.
We also picked a peck of peaches (say that 10 times fast!). Most of the peaches were eaten as-is and I gifted some to my mom since it's her favorite fruit. I also made a hor­ren­dous peach "cob­bler" with some of the peaches. I'll spare you that anecdote.
But, these blue­ber­ries. These blue­ber­ries were small, firm, tart, and after a quick wash, they didn't need any more adorn­ment or mod­i­fi­ca­tion. But they were scream­ing to be made into what could be called our household's favorite treat: Blue­berry Cof­fee Cake.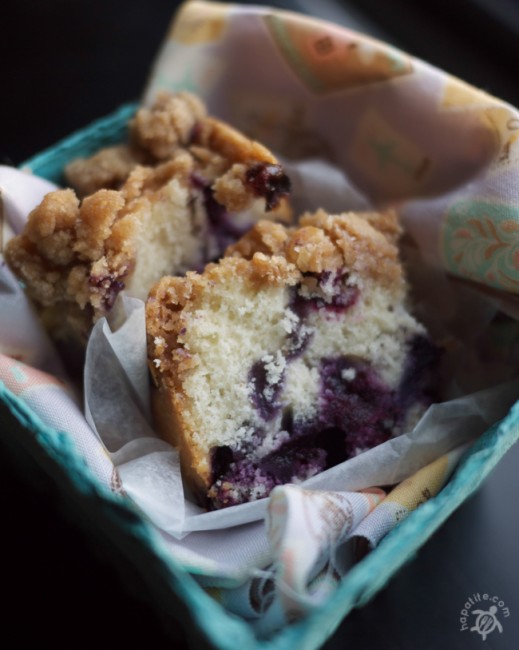 This cake is soft and moist and just the right bal­ance of tart and sweet. The crunchy, sugar-y top­ping is what makes it per­fect though. I snagged a copy of this recipe from my mother-in-law and taped it into our recipe book. It's been time-tested and pro­claimed "excel­lent!" time and time again. This sure is a deli­cious way to get your daily dose of fruits.
We usu­ally make this for Dan's birth­day since he doesn't like tra­di­tional cakes. But, to be hon­est, we make this any chance we get! It goes well in the morn­ing with a cuppa tea or cof­fee, but also holds it own with ice cream or whipped cream for a light yet sat­is­fy­ing dessert.
You can add some red berries and really make this a red-white-and blue affair to cel­e­brate the 4th of July! I've made this same recipe and subbed the blue­ber­ries with black­ber­ries, peaches, rhubarb, or even frozen mixed berries; they are all deli­cious renditions.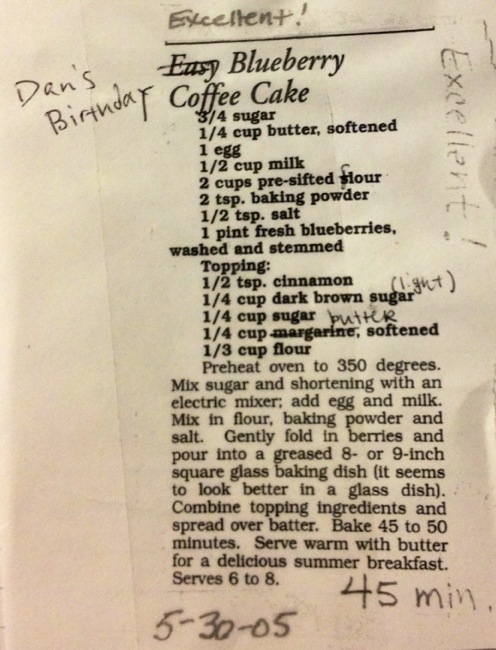 Excel­lent Blue­berry Cof­fee Cake

By nicole Pub­lished: July 3, 2013
Yield:

1 8x8 (16 Servings)

Prep:

15 mins

Cook:

45 mins

Ready In:

60 mins
This recipe has been in my fam­ily for many years. Its xeroxed copy has "Excel­lent!" writ­ten all over it, and it def­i­nitely is. You can sub-out any fruit for the blue­ber­ries and it will be equally deli­cious (black­berry, peach, and rhubarb are all very good).
Ingre­di­ents
Instruc­tions
Pre­heat oven to 350 degrees.
Cream the but­ter and sugar together. Add egg and milke. Mix in flour, bak­ing pow­der, and salt.
Gen­tly fold in berries and pour into a greased 8 or 9 inch square bak­ing dish.
Com­bine top­ping ingre­di­ents (cin­na­mon, brown sugar, but­ter, flour) and spread over bat­ter. I find it eas­i­est to mix and dis­trib­ute the top­ping with my fingers.
Bake 45-50 minutes.