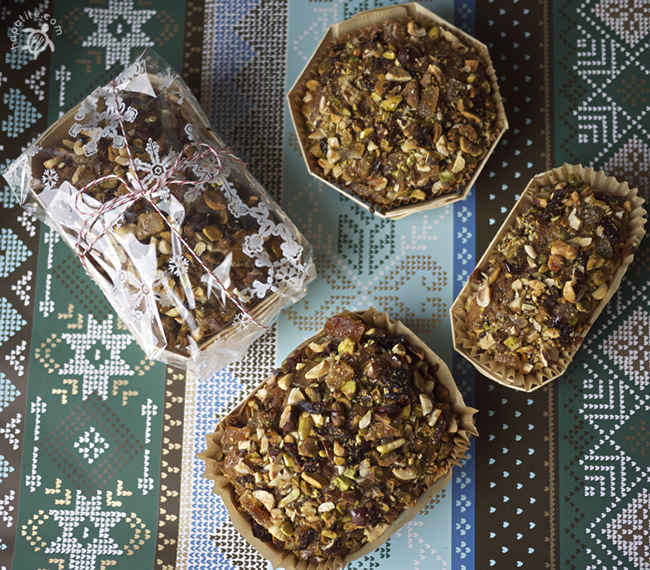 Even though I was mak­ing 4 types of Christ­mas cook­ies, my office wouldn't get to try any of them, so I whipped these up on a week­night after see­ing them on my friend Olga's blog. I decided to make the pis­ta­chio cook­ies more fes­tive by adding some red dried cran­ber­ries and some zingy crys­tal­lized gin­ger. I thought I was pretty clever turn­ing these into Christmas-colored cookies.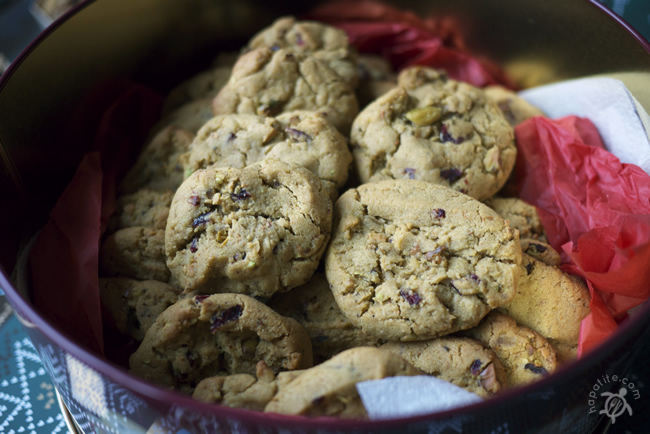 Some­times I think that choco­late is often used as a crutch in bak­ing. It takes a really good hand to be able to make some­thing deli­cious with­out choco­late in it that every­one will enjoy. These cook­ies had a firm yet del­i­cate crumb and were extremely fla­vor­ful. I like that each bite had a bit of some­thing else in it, an ele­ment of sur­prise, but some peo­ple don't like that.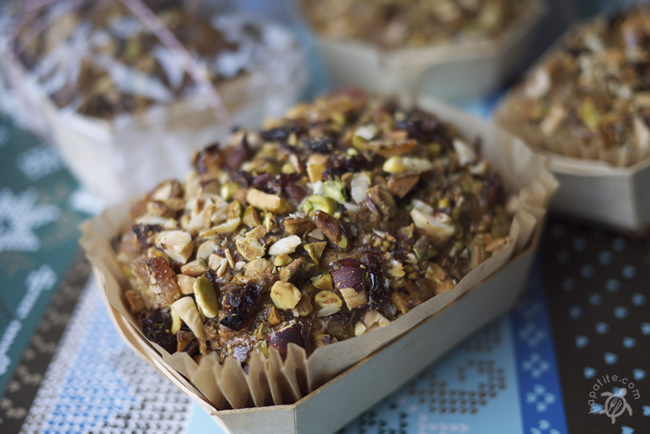 While these cook­ies were bak­ing, I real­ized I had some chopped pis­ta­chios, cran­ber­ries, and gin­ger left over. I com­bined these with some left­over chopped hazel­nuts from my home­made nutella and thought they'd make a deli­cious top­ping for one of my favorite things to make – pump­kin bread (or muffins). I scooped the bread bat­ter into these odd shaped Pani­bois Bak­ing Molds and hoped for the best, check­ing them often since they held vary­ing sizes of bat­ter. I couldn't taste them after they baked (obvi­ously), but I wrapped them up in cute snowflake cello-wrap and tied them with twine. I gave some to my fam­ily and some to co-workers. I'd like to think this is a more tasty ver­sion of a fruit­cake, but pumpkin!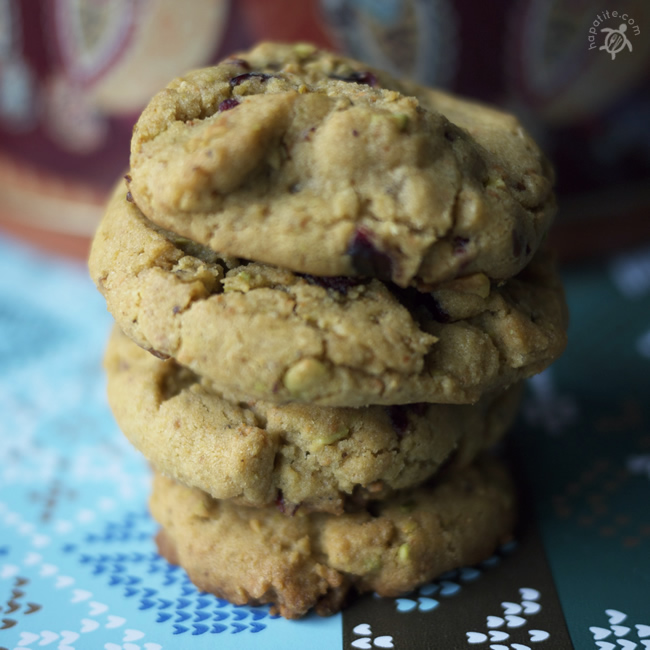 Pis­ta­chio, Cran­berry, and Crys­tal­lized Gin­ger Cookies

By nicole Pub­lished: Jan­u­ary 7, 2013
Yield:

24 cook­ies

Prep:

18 mins

Cook:

12 mins

Ready In:

30 mins
This recipe is based off of one from Mango & Tomato, which is adapted from Joe Yonan's Serve Your­self. The recipe makes 24 small cook­ies, but dou­bled, will make 24 reg­u­lar sized cookies.
Ingre­di­ents
Instruc­tions
In a food proces­sor, grind 1 cup of the pis­ta­chios. Slowly pour in the oil until the nuts form a paste. Coarsely chop the remain­ing half cup and reserve.
In the bowl of an elec­tric mixer, com­bine the but­ter and sugar until fluffy. Then add in the egg yolks and vanilla. Beat in the pis­ta­chio paste until incorporated.
In a sep­a­rate bowl, whisk together the four and soda. Slowly add the ingre­di­ents to the mix­ing bowl until just incor­po­rated. Mix in remain­ing pis­ta­chios, cran­ber­ries, and ginger.
Divide the dough into two logs and wrap in plas­tic wrap. Chill for 30 minutes.
Slice the dough into pieces and shape to be more cir­cu­lar if needed. Place about 2 inches apart and bake for 12 min­utes at 350°. Let cool on pan until firm, then trans­fer to cool­ing rack.