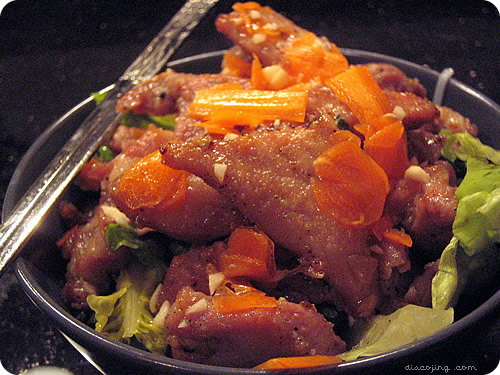 This dish was actually too flavorful for me. There were strong flavors throughout that seemed to compete with each other, rather than play off of each other and complement the dish as a whole. The pork was definitely the best part, and I think would taste great (better?) on it's own. Salty, Sweet, Fishy, and Spicy.
This makes two servings, but depending on your portion size, two people could share one dish.
1 pound pork shoulder or loin
1/2 package of rice vermicelli
1/2 head of butter lettuce, torn into small pieces
~1/4-1/2 bunch of mint, tor
For the marinade:
4 cloves of garlic, minced
2.5 tablespoons fish sauce
2 tablespoons sugar
1/4 tsp ground black pepper
For the nuoc cham (sauce):
1/8 cup sugar
Juice of 1/2 lemon (~1 tbsp lemon juice)
1/6 cup fish sauce
1/4 cup water
1 clove of garlic, minced
1/2 carrot, thinly sliced or julienned
1/2 to 1 teaspoons chili paste or rooster sauce
Place pork in the freezer until it firms slightly, 45 to 60 minutes. Remove the pork from the freezer, thinly slice and place in a large ziploc bag. In a small bowl, mix the ingredients for the marinade. Pour marinade into the bag with the pork and seal, removing as much air as possible. Place in the refrigerator and allow to marinate for one hour to overnight. In a small bowl, mix the ingredients for the sauce. Place in the refrigerator until ready to use.
Right before grilling, bring a large pot of water to a rolling boil. Add the vermicelli noodles and cook until tender, about 2 to 4 minutes (4 minutes is too long!). Drain the noodles and rinse with cold water to stop the cooking process, set aside. Remove the pork from the fridge. Grill or cook in wok (whichever you prefer) until cooked through. To assemble, place noodles in bowl or on a plate, then top with the grilled pork, lettuce and mint. Drizzle with the sauce and enjoy!