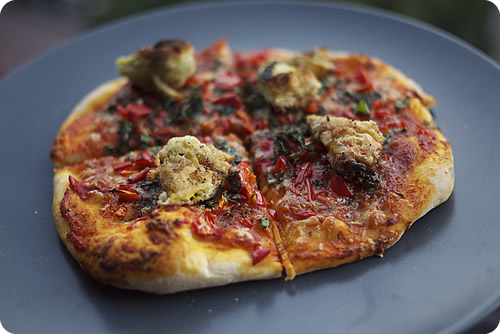 The end of August saw our return from a wonderful vacation to San Francisco and a new-found love for local ingredients. There are several local Farmer's Markets in the area, so we're used to eating somewhat seasonal cuisine, but in California, if it wasn't in season, it wasn't on the menu! Luckily we were there at a great time and had many dishes with corn, figs, olives, and summer squash.
One of our favorite dishes was the first course in the chef's tasting menu at Baker & Banker: a goat cheese-stuffed lightly fried squash blossom atop summer squash carpaccio drizzled with a ratatouille vinaigrette. In simple dishes like these, the quality of the ingredients really shines through. Since it's a chef's tasting menu, it's always changing depending on the available produce.
We thought we would be spoiled by the wonderful ingredients in San Francisco, but we were able to snag some awesome things at our local markets here! These squash blossoms were at the Dupont Circle market for 3 for $1. We also got some Keswick Creamery Chive/Dill Bovre to fill the blossoms with. The dough, purchased from a local pizzeria, is topped with some pasta sauce, local basil chiffonade, and some diced red pepper from the Clarendon Farmer's Market. The blossoms were dredged with seasoned flour and egg before being quickly fried in some olive oil.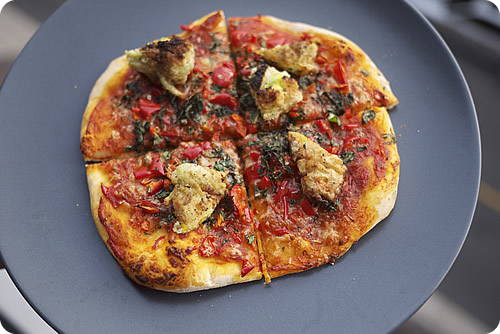 Everything tasted delicious and came together pretty quickly! The squash blossoms were done before the flatbread, so were a little too cool when everything was ready to eat.