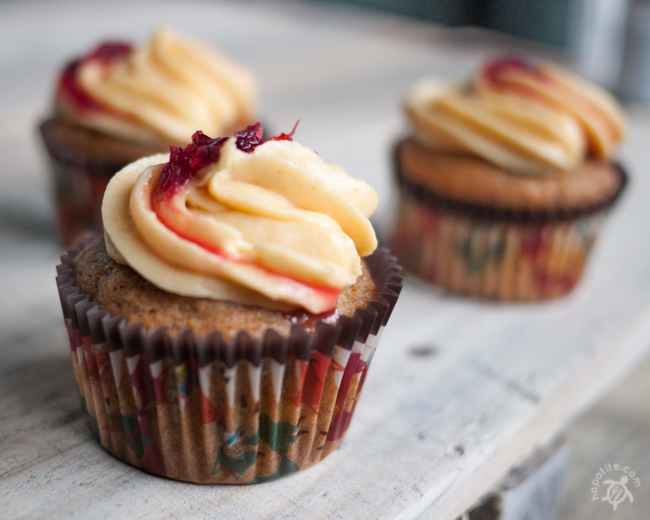 This week marks many things –
Thanks­giv­ing, Hanukkah, Leopold's gotch-ya day, and my 27th birthday.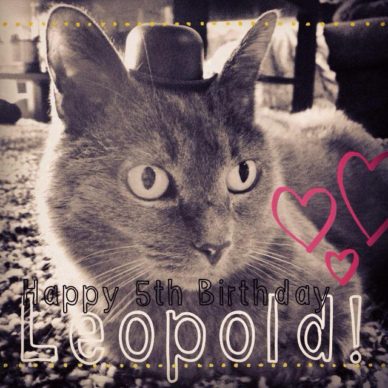 These recipes came out of a con­ver­sa­tion I was hav­ing a few weeks back at my in-laws din­ner table. My father-in-law (it's almost offi­cial, right?) whipped out some pump­kin bread he had recently picked up at Wegman's think­ing "why not?" We all agreed the bread was good, but just not the same as "Beth's Pump­kin stuff". What was this pump­kin bread-muffin-cupcake and why had I not heard of it? More likely I had heard of them, pos­si­bly eaten them, and just for­got about them and their rep­u­ta­tion. I made my mother-in-law promise to send me the recipe and later that night it arrived in my inbox.
There aren't many recipes that I don't make mod­i­fi­ca­tions to. I kept the cake recipe the same, even leav­ing in the pecans. There are two camps in the "nut" baked good bat­tle; some like the tex­tural con­trast of the nuts and some find it offen­sive and dishar­mo­nious. I added the pecans because: 1) I love pecans and 2) I had them in the apart­ment. My mother-in-law leaves them out and they taste just as good.
In this case, I took my mother-in-law's rec­om­men­da­tion and switched the orig­i­nal recipe's frost­ing out for her tried-and-true and award-winning cream cheese frost­ing. I added in a few table­spoons of pump­kin puree left­over from the cake into the frost­ing and topped these with some cran­berry orange rel­ish, which I had already added a few table­spoons of to the batter.
You might think top­ping a cup­cake with rel­ish is crazy, but pump­kin and cran­berry are both fla­vors that can go savory or sweet. This rel­ish is more like a coulis and the tart­ness and bright­ness of the top­ping really do a great job to keep this treat from get­ting too heavy. You can even argue that this has fruit and veg­eta­bles in it–with cream cheese, it's great for break­fast! Plus you know there's going to be left­over cran­berry sauce after Thanksgiving.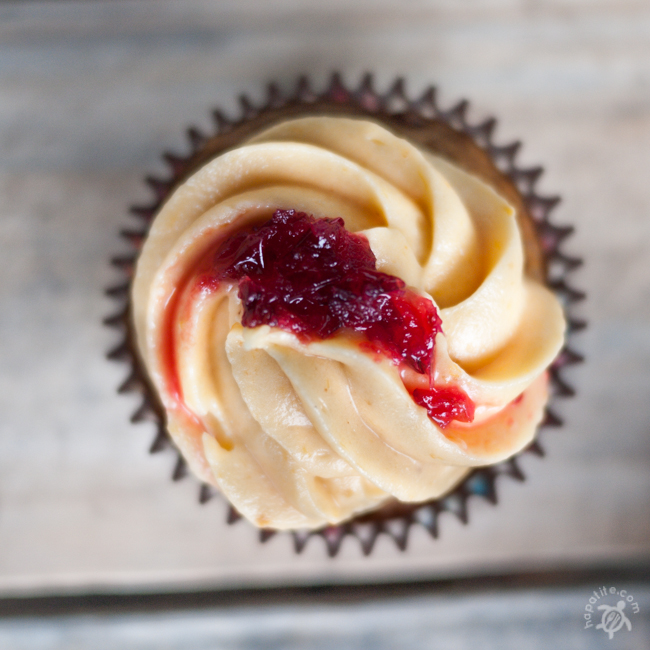 Pump­kin Pecan Cup­cakes with Cran­berry Orange Rel­ish Recipe

By nicole Pub­lished: Novem­ber 28, 2013
Yield:

18 cup­cakes (18 Servings)

Prep:

20 mins

Cook:

23 mins

Ready In:

53 mins
The cake recipe is adapted from Glo­ri­ous Treats
Ingre­di­ents
Instruc­tions
Pre­heat the oven to 375 ℉. In a large bowl whisk together the flour, bak­ing pow­der, bak­ing soda, salt and spices.
In another large bowl whisk pump­kin, sugar, oil, eggs and vanilla.
Add the flour mix­ture to the pump­kin mix­ture and stir until com­pletely com­bined. Optional: Stir in chopped pecans.
Scoop bat­ter into cup­cake pan, lined with paper lin­ers. Fill cups about 3/4 full.
Place in oven and imme­di­ately change tem­per­a­ture to 350 ℉. Bake for 22-24 minutes.
Let the cup­cakes cool in the pan on a wire rack for 5 min­utes. Then trans­fer cup­cakes to the wire rack and let cool completely.
For the frost­ing: Com­bine cream cheese, soft­ened but­ter, and vanilla. Add pow­dered sugar and beat until light and creamy.
Frost cup­cakes and top with cranberry-orange relish.